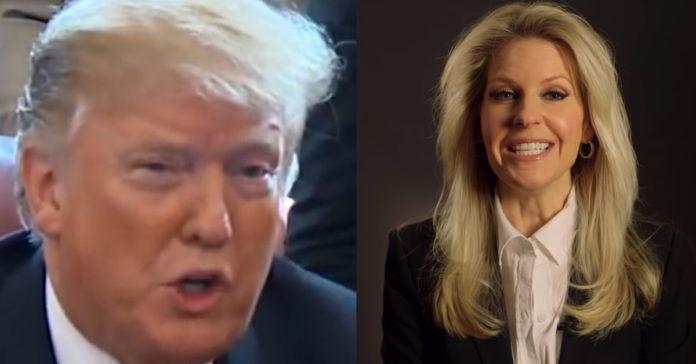 The battle over President Trump's tax returns is about to get ugly so Trump is calling in some help.
Look, the Democrats want Trump's taxes so they can dig through them and find some minor embarrassing issue and go public.
Trump's tax returns are complex and long and done by professionals so even if there is anything in there that could embarrass Trump, chances are he had no idea.
Does the left really think Trump does his own taxes? Of course not…this is just a political hit job.
As was what the left did Monica Crowley when she was tapped for an earlier position - they tried to destroy her with multiple political hit jobs.
Thankfully, Trump is his own man and overruled the critics and haters. From Bloomberg:
Treasury Secretary Steven Mnuchin plans to hire Fox News commentator Monica Crowley as his top spokeswoman, according to people familiar with the matter, as he seeks to tout the GOP's tax cuts and navigate Democrats' demands for the president's tax returns.
Crowley will be assistant secretary for public affairs, replacing Tony Sayegh, who departs at the end of May after more than two years with Mnuchin, the people said. Crowley and a Treasury spokesman didn't immediately respond to requests for comment.
Trump planned to appoint Crowley to a position at the National Security Council in his White House, but she withdrew from consideration in January 2017 after CNN reported that she had plagiarized portions of her 2012 book and Politico reported that she had plagiarized portions of her 2000 Ph.D. thesis. Crowley said in a Fox News interview that the reports were a "political hit job."
From The Hill: Crowley, who joined Fox News upon its inception in 1996, would succeed spokesman Tony Sayegh, who is expected to leave next month.
The former New York Post columnist is currently a regular contributor to the "John Batchelor Show," a nationally-syndicated radio program.
Crowley follows several former Fox News employees to work for the Trump administration, including current White House Director of Strategic Communications Mercedes Schlapp, current national security adviser John Bolton, former State Department spokeswoman Heather Nauert, and former White House communications directors Anthony Scaramucci and Bill Shine.
Crowley was originally set to join the Trump administration as a senior communications aide to former national security adviser Michael Flynn in 2016, but dropped out of contention following a CNN report with allegations of plagiarizing part of her 2012 book, "What the (Bleep) Just Happened," and in a dissertation submitted in 2000.