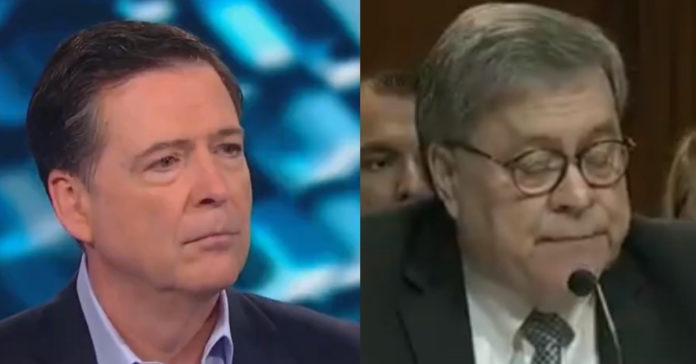 James Comey is terrified and the Democrats and Republicans will not come to save him. Not after what he did to, and what he did for Hillary.
But the unpardonable sin was the Russia hoax. Addicted to your ego you decided that you had to make amends for sinking Hillary at the end.
You thought America would welcome you and you thought you could take down Trump. Wrong on both accounts and there will be a price to pay yet unknown for your many betrayals. From The Washington Examiner:
Former FBI Director James Comey doesn't agree with Attorney General William Barr's assertion Wednesday that "spying did occur" on President Trump's 2016 campaign.
"The FBI conducted court-ordered authorized surveillance. I don't consider that spying," Comey said at the Hewlett Foundation's Verify Conference on Thursday.
Although Comey said he gives Barr the benefit of the doubt, citing his long career, his talk of "spying" makes it more difficult. "I have no idea what the heck he's talking about," Comey added.
Barr sparked an uproar among Democrats and the media Wednesday during his testimony to a Senate budget panel.
"I think spying did occur. But the question is whether it was predicated — adequately predicated," Barr testified. "I'm not suggesting it wasn't adequately predicated, but I need to explore that. I think it's my obligation. Congress is usually very concerned about intelligence agencies and law enforcement agencies staying in their proper lane."
"I think spying on a political campaign is a big deal. It's a big deal," Barr added, an apparent reference to GOP allegations that the FBI misled the Foreign Intelligence Surveillance Court to monitor former Trump 2016 campaign foreign policy adviser Carter Page.
However, later in the hearing, Barr clarified he hasn't proven there was any wrongdoing. "I am not saying that improper surveillance occurred, I'm saying that I am concerned about it and looking into it, that's all," he said.
Still, Barr's "spying" bombshell has riled Democrats.
An Obama-era Justice Department chief took issue with the "spying" comment."When there is a predicate, a legitimate basis, it's called 'investigating' not 'spying'. I am confident that the people at DOJ/FBI conducted themselves in an appropriate way. No evidence to suggest otherwise," Eric Holder tweeted.
Republicans defended Barr. "Unfortunately, the Democratic party wants an outcome when it comes to Trump, not a process. Mueller was allowed to do his job, and I am confident that Attorney General Barr is accurately representing the conclusions of the Mueller investigation," Senate Judiciary Committee Chairman Lindsey Graham, R-S.C., tweeted.
Enter Cory Lewandowski, a close ally of President Trump and he leaves no doubt who was responsible.
"He (Trump) absolutely thinks that this went directly to the top of the previous administration," said Lewandowski on "Fox & Friends" Thursday.
"There is no way an opportunity like this to spy on a political opponent was not vetted at the highest levels of the government, whether it was Susan Rice or the Deputy National Security Advisor Ben Rhodes or Barack Obama himself. Somebody sanctioned this. 
His Department of Justice filed an application to spy on guys like Carter page, Corey Lewandowski, Jared Kushner, Ivanka Trump, and everybody else at the campaign because they didn't like our politics."
He added: "We're American citizens. We fought for what we believed in. If the criteria is, 'We don't like your politics, we can spy on you,' guess what, the Democrats better be very concerned."
"We know it wasn't legal because spying on American citizens on domestic soil because you don't like our politics by definition is illegal," said Lewandowski.
"The real question that Attorney General Barr has to determine is, how high in the previous administration did this go? Did Barack Obama know about this? Was this a rogue operation by Ben Rhodes, the deputy national security advisor?
.@Comey, at the Hewlett Foundation's Verify Conference, says of Barr's "spying" comments: "I have no idea what the heck he's talking about."

— Natasha Bertrand (@NatashaBertrand) April 11, 2019
.@Comey says he laughs when he wakes up and sees tweets from the president saying he should be in jail. But warns against the numbness that comes with Trump's constant attacks on democratic institutions-constitutes "an erosion of those norms at the center of American life."

— Natasha Bertrand (@NatashaBertrand) April 11, 2019