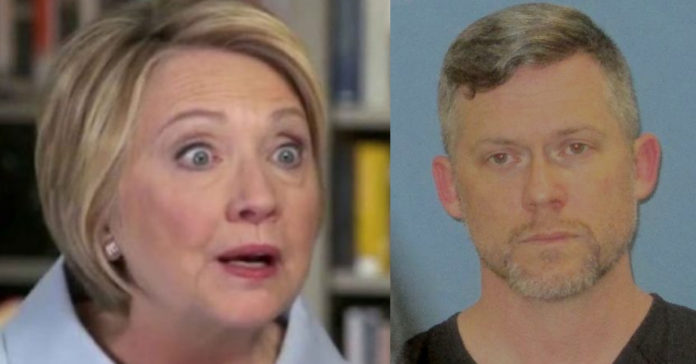 The skeletons keep crawling out of Hillary Clinton's closet. At this point, after years and years of corruption by that family, no one is surprised anymore.
No one is shocked anymore. But they should be - because this is a shocking story that the media should have put on blast 24/7.
From Big League Politics: Harold "H.L." Moody, an Arkansas government youth program coordinator who was arrested for allegedly participating in child porn video chat room sessions, oversaw ticket sales for a fundraiser featuring presidential candidate Hillary Clinton in his capacity as a Democrat Party official.
The media's virtual blackout of the Harold Moody story is disturbing, considering the ties between Clinton and Moody, who were photographed together. Moody has met both Bill and Hillary Clinton, according to documented evidence.
Harold Moody was arrested in November for distribution and possession of child pornography after he was caught repeatedly in chat rooms in which he and others were sharing child pornography, including at least one video of adults having sex with a child. Moody pleaded not guilty.
"I've heard of White privilege but never Perv privilege – i am not the Juke Box at Waffle House…I do not play on demand…" Moody told fellow users in the chat room in response to video requests
Moody was spokesman for the Democratic Party of Arkansas during the 2016 election and was previously the chairman of the Pulaski County Democratic Committee.
The Clinton Foundation set up a health initiative in Pulaski County, Arkansas, where Moody worked for Pulaski County Youth Services. The Clinton Foundation also co-presented an award to the head of Pulaski County Youth Services, where Moody was working at the time of his arrest. A separate Pulaski County Youth Services employee was also arrested for allegedly raping a 14-year old.
In his capacity as state Democrat Party spokesman, Moody oversaw the selling of tickets to a Hillary Clinton fundraiser in July 2015.
The Times Record reported in 2015: "State Democratic Party spokesman H.L. Moody said the party sold all 1,600 floor seats for the $200-a-plate dinner, then began selling $15 arena seats. He estimated the audience at over 2,000 people — former state Highway Commissioner John Burkhalter said onstage that more than 2,500 were present — and said the party had raised about $450,000, enough to cover its entire annual budget. On Friday, Trump spoke to about 1,000 people in Hot Springs. He said during his speech that the Democratic Party had cut ticket prices to lure people to its event. Moody disputed that claim. "I reject the notion that we reduced ticket prices," he said. "The floor seats sold for a higher ticket price than we've ever sold them before, and they also sold faster than they've ever sold before, and that's why we opened the arena seats. The original plan did not call for arena seats, but we had to open them up because there was so much demand for tickets.'"
Moody praised Hillary Clinton in an interview with the Arkansas Times after Clinton's defeat in the 2016 election and said that Bill Clinton's presidential election in 1992 inspired him to get into politics.
"I think Secretary Clinton summed it up best when she said (at a charity gala on Nov. 16) that there were days when she wanted to curl up and never leave the house. I totally get that, but, as somebody that pays the electric bill by working in politics, I just don't have that luxury. Also, the longer I am lying down and feeling bad, the longer they can say the DPA is dead, and that's simply not the case," Moody said in the interview.