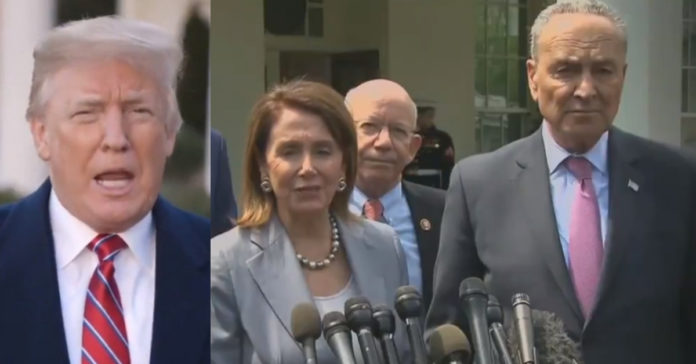 President Trump and Congressional Democrats just held another extraordinary meeting. Look, Trump by all accounts is the most accessible and transparent president we have ever had.
You may not like him, but everyone knows exactly where he stands on every issue. On infrastructure, he has always been clear he wants public money so he can make sure the stuff actually gets built. Earlier he shot down Gary Cohen's desire to fund infrastructure developments by leaning on Wall Street.
Trump didn't fall for it, knowing full well if infrastructure projects were based on recouped investment, many rural projects would never get off the ground.
Further, matching funds with private investment sounds great, but the builder in Trump knows that without real money upfront many projects never actually got off the ground.
Like critical broadband access, Trump wants to put in every home in America, especially in rural America.
Enter Mitch McConnell - he doesn't share Trump's founding vision, preferring the usual private-public deals of the GOP.
Politically it makes sense for Trump to spend government money, economically it makes sense as it would guarantee projects are spread out and impact rural areas.
Trump is right on this and the GOP would be wise to remember Trump ran against both parties in 2016. The GOP and Dems need to come together and get this done as it was a campaign promise of Trump's, and it is the right thing for America.
From The Hill: Democratic congressional leaders said they held a constructive meeting with President Trump on Monday at which they agreed to seek a deal on a $2 trillion infrastructure bill.
Speaker Nancy Pelosi (D-Calif.) and Senate Democratic Leader Charles Schumer (D-N.Y.) left the meeting at noon sounding a decidedly positive note, calling the meeting with Trump at the White House constructive and good.
They said they had not agreed on how to pay for a $2 trillion bill to improve the nation's roads, bridges, waterways and broadband, but that they had agreed to meet in another three weeks.
From Politico:
Majority Leader Mitch McConnell has said "everybody loves infrastructure in the abstract" but that paying for such a bill is always a challenge.
"We'll have to hold hands and jump together," Sen. John Cornyn (R-Texas) said of a big infrastructure package. "As long as everybody views it as a collective win, I think it will be doable."
"Obviously he can't get infrastructure on his own. We can't get it done on our own," Hoyer said after a Democratic leadership meeting Monday night. "And therefore, if we're going to get it done, we need to sit down and talk."
"We came to this meeting with an understanding that there is great need in our country for rebuilding our infrastructure," Pelosi said after meeting with Trump.

"We agreed to meet again to talk about how it would be paid for." pic.twitter.com/DKnHmz0PZF

— POLITICO (@politico) April 30, 2019