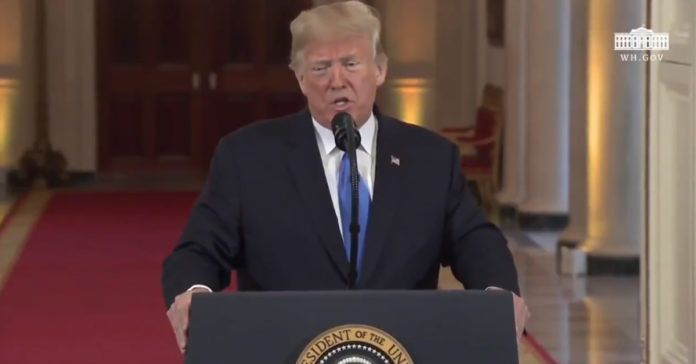 President Trump is a man of action. While ISIS has been routed and other terrorist organizations are on the run, Trump knows the fight is far from over.
Many advised against this move, arguing it could complicate matters at hand in the region. But Trump has had enough of the politicians talking - we need action and we need strong action. Trump is the man for the job. From PJ Media:
On Tuesday, White House Press Secretary Sarah Huckabee Sanders confirmed that the Trump administration is working to formally designate the Muslim Brotherhood a terrorist organization. The Muslim Brotherhood is Egypt's oldest Islamist movement, and the impetus to designate it a terror group actually came from Egypt.
"The president has consulted with his national security team and leaders in the region who share his concern, and this designation is working its way through the internal process," Sanders said in an email, Reuters reported.
Egyptian President Abdel Fattah al-Sisi asked President Donald Trump to make the designation in a private meeting during a Washington, D.C. visit on April 9. Sisi has already designated the Muslim Brotherhood a terrorist group. A U.S. official confirmed the meeting, first reported by The New York Times.
After that meeting, Trump praised Sisi as a "great president." Sisi ousted the previous Egyptian president, Mohamed Mursi of the Muslim Brotherhood, in 2013 and was elected president the following year. He has overseen a crackdown on Islamists.
From Reuters:
The Brotherhood, which estimates its membership at up to 1 million people, came to power in Egypt's first modern free election in 2012, a year after long-serving autocrat Hosni Mubarak was toppled in a popular uprising. But the movement is now banned and thousands of its supporters and much of its leadership have been jailed.
Istanbul-based Yehya Hamed, who served as investment minister in the Mursi government, said Trump is "trying to fight with the wind," pointing to the prominent role of Islamist political parties in Tunisia and Morocco.
"What Trump is doing is bringing more instability to the region," Hamed said.
Daniel Benjamin, former State Department coordinator for counterterrorism who now teaches at Dartmouth College, called the move mystifying. He said the State Department had considered the designation in 2017 but came to the conclusion there was no basis for doing so.