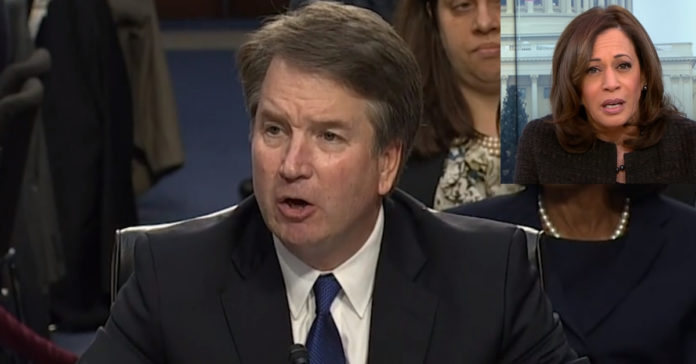 Payback, as they say, is a real b*tch. Brett Kavanuagh, a qualified judge by all accounts, was smeared in a disgusting game of petty politics in the hit job of the century.
Oh, they didn't just want to stop his confirmation to the Supreme Court, they wanted to destroy this man.
Ruin his reputation and ruin his career with false accusations and unproven garbage. The Democrats even stooped so low as to involve Michael Avenatti in their smear campaign.
Avenatti it should be noted will most likely spend the next 15 years in federal prison for fraud and extortion.
Which, when you think about it is really what the left tried to do to Kavanaugh and the GOP.
Earlier this week one Democratic aide and accomplice to the smear job pleaded guilty to the crime and thanks to the dogged reporters at the Daily Caller we now know another Dem may soon go down for the same.
From The Daily Caller:
A second former aide to Sen. Maggie Hassan is implicated in former IT staffer Jackson Cosko's massive data-theft scheme that was ultimately used to "intimidate" Republican senators by "doxxing" them during a confirmation hearing for Supreme Court Justice Brett Kavanaugh, prosecutors said.
Samantha G. DeForest-Davis, at the time a staff assistant to Hassan, was the aide who allegedly helped Cosko conduct his scheme, a source with knowledge of the situation told The Daily Caller News Foundation. Court records show a case naming her has been opened, and the source confirmed it relates to her alleged role in the data theft.
She filed an affidavit that can be used to assess her eligibility for a public defender, but she has not been charged with any crimes, court records show.
Cosko pleaded guilty April 5 to masterminding what prosecutors said was "an extraordinarily extensive data-theft scheme, copying entire network drives, sorting and organizing sensitive data, and exploring ways to use that data to his benefit." He admitted to stealing tens of thousands of documents and emails from Hassan's office, in addition to credit card information and Social Security numbers belonging to Senate employees.
DeForest-Davis — identified in court documents only as SUBJECT A — allegedly repeatedly provided Cosko a key that he used to enter the office at night and install tiny devices that capture every keystroke, including passwords that were then used to access further materials, according to the statement. After Cosko was caught in the act by a Hassan staffer in October 2018, the accomplice went to the office and wiped down keyboards and mice to erase any fingerprints, prosecutors said.
On Jan. 24, prosecutors said "the defendant is cooperating," though they noted "the government isn't convinced that he is fully cooperative." Six days earlier, a case called USA vs. DeForest-Davis was opened in D.C. federal court.
DeForest-Davis has not been charged with any crimes, but the court records show she filed a CJA 23 Financial Affidavit. Court records in unrelated cases show that a CJA 23 Financial Affidavit can serve two purposes: to establish whether someone facing or expecting to face charges qualifies for a public defender, and — since it is an outlining of one's finances submitted under penalty of perjury — to prosecute the person for lying in order to hide money he or she had received.