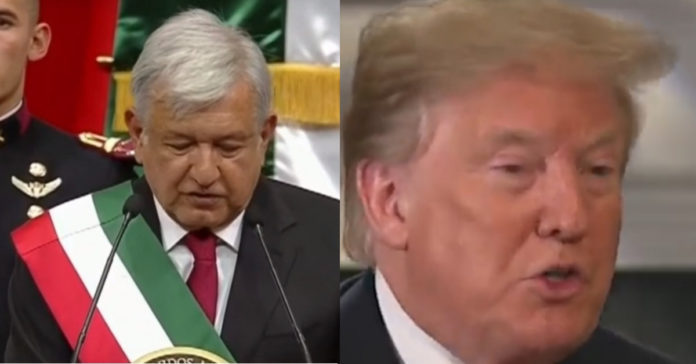 Most people don't know that Mexico has some of the strictest immigration policies in the world.
Oh, it's true, they are ruthless to anyone from Central America trying to sneak and live in their country.
The fact is Mexico's economy is better than their neighbors to the south and the last thing Mexico wants is a bunch of poor migrants taxing their already fragile system.
So they arrest illegal immigrants, send them back home and prey on any that make it through the border gauntlet.
But that is all changing now that the migrants want to pass through Mexico and come here. Could Mexico stop it? Yes.
And Trump warned them today to stop it or he may close the border. Well, we just got our answer from the Mexican President and we heading for a showdown at the border.
From The Hill: Mexico's top immigration official said Monday the country will not order the militarization of the border with Guatemala as caravans of residents from Central American countries make their way north.
Interior Secretary Olga Sánchez Cordero said Mexico will regulate and provide security to migrants from Central America, El Universal newspaper reported.
She added that President Andrés Manuel López Obrador's government is "not repressive" and won't militarize its southern border "under any circumstances."
Sánchez Cordero's comments follow López Obrador's vow to respond with "peace and love" to U.S. threats to close the U.S.-Mexico border.
President Trump vowed in recent days to shut down the southern border — the world's busiest commercial frontier — over a surge in Central American families and unaccompanied minors seeking asylum in the United States that has overwhelmed U.S. Border Patrol and U.S. Customs and Border Protection.
Trump on Saturday said Mexico should "use its very strong immigration laws to stop the many thousands of people trying to get into the USA."
A top Department of Homeland Security (DHS) official said Friday the United States is in negotiations with the López Obrador administration to find ways for Mexico to stop caravans in its territory.
"Mexico has a variety of things they can do to increase enforcement," said the senior official, adding that DHS is in negotiations with the Mexican government to limit transit of Central American humanitarian visa recipients to the southern states of Oaxaca, Chiapas and Tabasco.