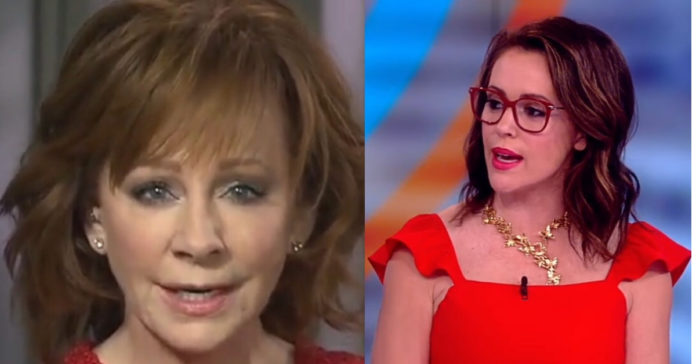 Country music legend Reba McEntire just fired a shot across the bow of the Hollywood mafia.
The goons on the left use whatever soapbox they can find to trash conservatives and their values, all dripping in unfounded condescension.
Not Reba, she actually likes her fans and respects every one of them, not just the ones that agree with her politically. From Fox News:
Reba McEntire is returning to the ACM awards' stage as host for the sixteenth time, but the country star had one caveat before she signed back on this year.
Speaking to Fox News, the "Does He Love You" singer revealed that the show, which takes place on Sunday in Las Vegas, needed to be politics-free for her to give the gig a green light.
"When they asked me if I would host the ACMs, I said I will, but I want you to know right now no politics," she told us. "This is not what we're in here for."
"We're in here to honor the folks who have worked so hard all year long on their craft and their songs — we're promoting them," McEntire continued. "Not politics."
"I love the ACM awards because they bring a little bit of Hollywood in with the country," she gushed. "Nashville and Hollywood meet in Las Vegas — and it's a fun show. Everybody leaves their homes. It's not in Nashville. It's not in Los Angeles. We come to Vegas to have a really good time, and Vegas is a wonderful place to have that.
"Everybody gathers in Vegas," McEntire, who noted that the city is like her "second home" thanks to a residency with Brooks & Dunn, added. "We rehearse. We'll go out and have dinner or lunch and just get to hang out — it's like a family reunion."
As someone who has won 16 ACM awards, including taking home the coveted Entertainer of the Year honor in 1994, it was not lost on McEntire that there are no female nominees in the top category this year.
"Well, I want more women in there, absolutely!" the country star said. "There's room. There's great female vocalists who have been working their tails off, and women work really hard not only with the hours they put in to hair and make and up and wardrobe, but they work hard on-stage too, so I think they deserve that recognition."
"What I'm doing on my album is going back to my roots. It's stone-cold country," the three-time Grammy award-winning singer said of her latest record. "It's songs you can dance to whether it's a slow song or a two-step or story songs. I miss story songs. I love them.
 "I mean you can listen to a story song like Dolly Parton and Tom T. Hall, who would sing, and you could see the video in your mind — and I've got some of those in my album," she continued. "The album is called 'Stronger Than The Truth' and that's what I was really wanting to get back to on this album to get back to my roots, and that's what I call country music."