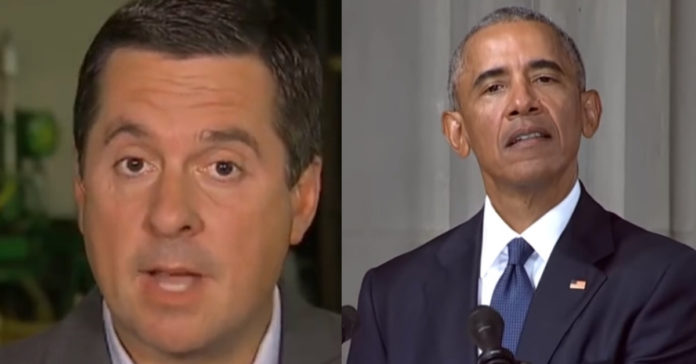 Devin Nunes just made his move on the rampant corruption that plagued the Obama administration.
Look, Washington is full of cheats and crooks out for themselves - they leak and plant stories in the media to serve their agenda's, not the country's.
Take what they did to Trump with this Russian Hoax - fearful of democracy and terrified that Trump would end the gravy train they took the extraordinary actions to if not overturn an election, at least damage Trump so badly that he would cry uncle.
Well, it looks the corrupt Democrats will be the ones to cry uncle and soon.
From Fox News: House Intelligence Committee ranking member Devin Nunes exclusively told Fox News' "Sunday Morning Futures" that he is preparing to send eight criminal referrals to the Department of Justice this week concerning alleged misconduct from "Watergate wannabes" during the Trump-Russia investigation, including the leaks of "highly classified material" and conspiracies to lie to Congress and the Foreign Intelligence Surveillance Act (FISA) court.
The dramatic step comes as Republicans have pushed for the release of key documents to uncover the origins of the now-discredited narrative that the Trump campaign colluded improperly with the Russian government. President Trump recently told Fox News he would release the entirety of the FISA applications used to surveil one of his top aides, and other related documents.
Nunes said he has been working on the referrals for more than two years, and wanted to wait until the confirmation of Attorney General Bill Barr.
"We're prepared this week to notify the attorney general that we're prepared to send those referrals over," Nunes said. "First of all, all of these are classified or sensitive. … Five of them are what I would call straight up referrals — so just referrals that name someone and name the specific crimes," Nunes told Maria Bartiromo. "Those crimes are lying to Congress, misleading Congress, leaking classified information. So five of them are those types."
From The Daily Caller:
Nunes declined to identify the Obama officials who will be subject to the referrals. He said that five of the referrals name specific government officials he believes have lied to Congress, misled Congress or leaked classified information.
"We believe there is a conspiracy to lie to the FISA [Foreign Intelligence Surveillance Act] court, mislead the FISA court, by numerous individuals that all need to be investigated and looked at," said Nunes, the top Republican on the House Intelligence Committee.
"The second conspiracy one is involving manipulation of intelligence," said Nunes, adding that "we've had a lot of concerns with the way intelligence was used."
Nunes is also making what he calls a "global leak referral."
"There are about a dozen highly sensitive, classified information leaks that were given to only a few reporters over the last two and a half plus years," he said.
"We do believe that we've got pretty good information and a pretty good idea of who could be behind these leaks," Nunes continued.