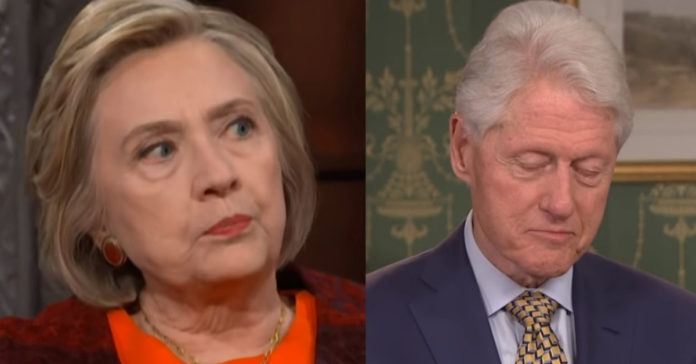 The more we learn about Hillary Clinton the more America becomes convinced we made the right decision to deny her a chance to be President.
Look, the Clintons play the game and are good at it but that doesn't make it right. That corruption runs so deep in their veins that we are not shocked by it anymore, does not speak well of our swiss cheese like campaign laws.
And this shocking story does not just hit the Clintons, but also current Democratic presidential candidate Kirsten Gillibrand. From Big League Politics:
Hillary Clinton donor Clare Bronfman is pleading guilty to charges stemming from her co-leadership of the NXIVM sex cult, an accused human trafficking organization in upstate New York closely tied to major Democrat politicians.
The New York Times reports: "On Friday afternoon, Ms. Bronfman, 40, is expected to plead guilty in a Brooklyn federal court to charges arising from a complaint filed last year against her and several other followers of the group's leader, Keith Raniere, according to a court docket…The charges to which Ms. Bronfman and Ms. Russell will plead guilty have yet to be disclosed. But their decisions will leave Mr. Raniere standing alone at the Nxivm trial, which is scheduled for next month. In recent weeks, three of his other co-defendants, including the actress Allison Mack, have pleaded guilty to various charges."
Things are escalating in the NXIVM case, which began when Keith Raniere and actress Allison Mack were arrested in Mexico.
Big League Politics reports:
Prosecutors have asked to present evidence in the NXIVM sex cult racketeering trial showing that NXIVM leaders including Nancy Salzman and Clare Bronfman illegally bundled money for Hillary Clinton's 2008 presidential campaign by compelling members to donate to Clinton and then reimbursing the members. (READ: Ex-NXIVM Employees: Kirsten Gillibrand's Father and Stepmother, Second Cousins, Were Very Active In The Cult, Acted As Broker To Democrat Politicians).
"I was there, and I knew that the contributions were made by more than a dozen NXIVM members to Hillary Clinton's presidential campaign," former NXIVM employee Frank Parlato tells Big League Politics, confirming that the court documents refer to Clinton's campaign.
The prosecutors state:
"Campaign Contribution Evidence i. Facts At trial, the government intends to introduce witness testimony and documents demonstrating that in 2007, the defendants and their co-conspirators were involved in an illegal scheme to exceed contribution limits to a presidential primary campaign.
A cooperating witness who attended the event will testify that the defendants and their co-conspirators made the contributions in hopes of obtaining political influence to advance their own agenda, including targeting perceived enemies of Raniere. The government will also seek to introduce evidence of similar conduit contributions to other elected officials, as well as use of other political lobbyists in attempts to gain influence.
Democrat senator and presidential candidate Kirsten Gillibrand's family ties to the NXIVM sex cult are coming to light, raising serious questions about her relationship with the cult that she once denied knowing about.
Gillibrand's father and stepmother, who are second cousins, were both heavily involved in the cult in the period shortly before they got married, according to eyewitness accounts from ex-NXIVM employees who spoke on the record to Big League Politics, and according to court documents proving that Gillibrand's father Doug Rutnik was employed by NXIVM.
Gillibrand's father served as a broker between NXIVM cult leader Keith Raniere — whose initials were branded on his female sex slaves — and then-New York attorney general Eliot Spitzer to resolve Raniere's financial problems with the state, according to  ex-employee whistleblower Joseph O'Hara, whose revelations are printed below.
Gillibrand's stepmother Gwenn Belcourt got "hooked" on the cult as did Bill Clinton's close friend Richard Mays, according to the whistleblower. Nancy Salzman, the NXIVM president, acted as a personal "guru" for Gillibrand's stepmother.