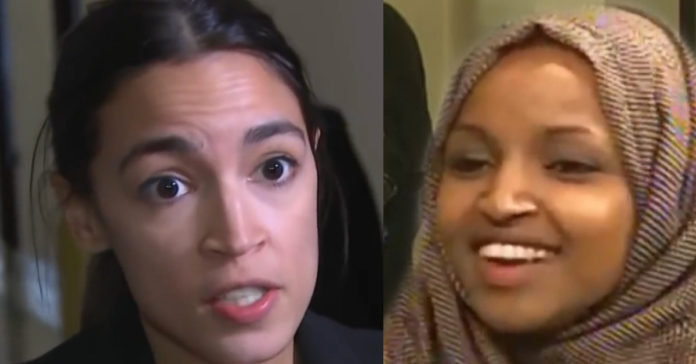 A shocking new report could spell doom for AOC and Ilhan Omar and the rest of the ultra-liberal Democrats.
Look, we all know our campaign finance laws are a joke - a total joke and no one even defends them anymore. It is a tricky question, one made more complicated by Citizens United, but rules are rules and if the left does not want to follow them they must suffer the consequences.
In short, Pelosi, rather than try to impeach Trump which will never happen in the Senate, should move to censure these upstarts and get them in line or else they may bring the entire party crashing down.
From The Daily Caller:
House progressives are violating congressional rules by using a dark money group to help accomplish their caucus's legislative goals, experts told The Daily Caller News Foundation.
The leaders of the 97-member Congressional Progressive Caucus could face a formal censure or reprimand for using outside funds and services from the Congressional Progressive Caucus Center (CPCC), a nonprofit group, according to the experts. House rules prohibit congressional caucuses from accepting such support from outside organizations.
"Article 1, section 5, clause 2 of the U.S. Constitution says that, 'Each House may … punish its Members for disorderly Behaviour, and, with the Concurrence of two thirds, expel a Member,'" Carter said. "Based on previous history, the most severe punishment would likely be censure or reprimand of the leaders" of the progressive caucus.
Progressive caucus co-chairs Reps. Mark Pocan of Wisconsin and Pramila Jayapal of Washington appeared at a town hall event in February where Pocan said the CPCC would be funding staffers to work for the caucus.
"In the last year and a half, Pramila and I have been building an outside 501(c)(3) entity with a lot of great friends and partners," Pocan said. "We've raised several million dollars to have a progressive infrastructure to work with all the progressive groups so that we truly are one fluid movement."
It's unclear who's funding the CPCC: As a 501(c)(3) organization, the IRS does not require it to disclose its donors' identities.
"We have had one staff person for the longest time for the progressive caucus — Mike Darner — and then … we had two staff people," Pocan continued.
"We are going to have about nine people for the nonprofit," he added. "We're going to have six full-time fellows working on specific issue areas. We're going to have a number of people working on policy outreach communications. We are going to – by the time probably the end of April, we will go from two staff to about 21 staff working on progressive issues."
Conservative political law attorney Cleta Mitchell told TheDCNF: "This whole scheme is a direct violation of federal law requiring Congress to utilize only appropriated funds for its operations. There are so many legal issues with this setup: violations of federal law, violations of House rules, and complete disregard of the rule of law."
Mitchell said the CPCC providing staff for the caucus violates both federal law and House ethics rules on "unofficial office accounts." The rule, which was codified into federal law in 1991, prohibits the use of private donations to support the activities of a congressional office, which, according to Pocan, the CPCC is doing for his caucus.
"There are strict rules regarding what funds are allowed to supplement the allocation of tax dollars to member offices and official duties," Mitchell told TheDCNF.
She alleged that the CPCC is violating the tax code by leveraging its charitable resources to exclusively benefit the progressive caucus. 
"It is a violation of the tax code, which requires an exempt organization to serve the general public, not serving as staffers for a small group of members of Congress from one political party," Mitchell said.
CPCC communication director Jessica Juarez Scruggs said the charity "complies with all House rules and federal laws" when asked for comment. She did not comment further.