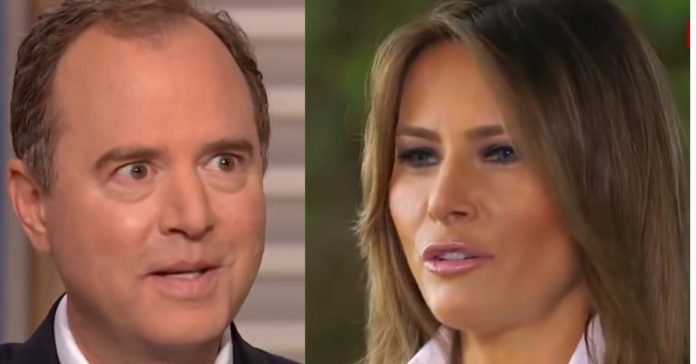 It's about to get ugly. The Democrats, led by Adam Schiff who more and more resembles the captain on the Titanic, just crossed the red line.
Look, we all know that all past presidents relied on their spouses in unofficial capacities, as does Trump even if Melania shuns the spotlight.
The truth is they have a very warm and loving relationship and she is every bit the equal partner. She may even be smarter than he is.
But this move by Adam Schiff to go after Melania's good friend, who was her top aide in the White House, is a terrible precedent.
What makes it worse, she already cooperated with the SDNY when they nailed Michael Cohen for his shady dealings. so if she did anything wrong, she would have been busted with him or by Mueller. No, this looks like an attempt to embarrass Melania to get to Trump.
From Vanity Fair:
Last month, House Intelligence Committee Chairman Adam Schiff sent a letter requesting documents from Stephanie Winston Wolkoff, a longtime friend of First Lady Melania Trump who had a lead role in planning the events leading up to the president's swearing-in, and who later served as an unpaid senior adviser in the East Wing.
The letter, which was sent to Wolkoff's lawyer, asks her to turn over information related to efforts by foreign individuals or entities to support or influence Trump's campaign, transition, and administration.
Schiff, who has asked Wolkoff to participate in a voluntary interview, is particularly interested in any communications involving Russia, the United Arab Emirates, Qatar, Saudi Arabia, and other foreign governments.
The Oversight Committee is also probing the White House over its security clearance protocol, of which Wolkoff has intimate knowledge. As I reported earlier this year, Wolkoff's contract with the White House was terminated in 2018, when the White House instilled new security protocols in the wake of the Rob Porter scandal.
A member of the White House Counsel's Office called her on February 20, 2018, to let her know that the White House would be terminating all gratuitous-services agreements, including hers.
It had nothing to do with her work on the inauguration, this person told her, but it was part of an administration-wide crackdown. "I am sorry that the professional part of our relationship has come to an end, but I am comforted in the fact that our [friendship] far outweigh[s] politics," Melania wrote her in an e-mail later that day. "Thank you Again! Much love."