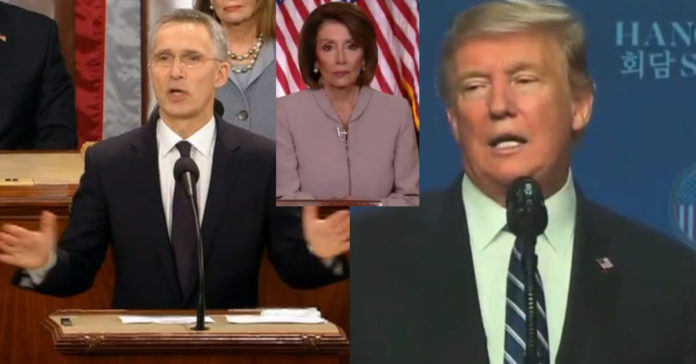 They said it could not be done. They said everyone who came before, from Reagan to Obama tried and failed to get NATO to kick in more for our mutual defense.
But Trump took this job to solve the hard problems, so he forged ahead literally alone. Even his staff fought with him on this front. Then they said 'don't rock the boat these are dangerous times' and then they said maybe you are doing this as a favor to Putin.
No, he was doing it as a favor to America, Europe and NATO itself. This was a long time coming, not a break in the alliance, a subtle shift to reflect the new reality.
When we adapt our treasured institutions with the times, and European countries, 70 years after WW2 and with advanced economies of their own, certainly cover more of the cost.
The same thing is happening with China - we are friends and trading partners but we need to slightly shift the partnership to reflect the new reality that China is no longer some developing nation.
The real tragedy is NATO and China (and our establishment) have been fighting Trump on these efforts.
Look, everyone needs to acknowledge that we are in 2019 and not try to convince us we are still in 1980.
From Fox News:
NATO Secretary General Jens Stoltenberg, in a historic address to Congress, declared Wednesday that President Trump's push for NATO allies to increase their defense spending has "had an impact" and made the alliance stronger.
"Allies must spend more on defense. This has been the clear message from President Trump," he said. "And this message is having a real impact."
NATO does not have a defense budget, but members commit to spending a minimum of 2 percent of their Gross Domestic Products on defense. Trump, however, has repeatedly called out members that do not meet that commitment, even as this campaign has caused friction with longtime U.S. allies. The United States spends 3.5 percent of its GDP on defense, and Trump has long called for fellow NATO members to put up their share.
As Trump himself has taken credit for nations agreeing to increase their spending pledges, Stoltenberg said that NATO is stronger as a result of the U.S. pressure.
"After years of reducing defense budgets, all allies have stopped the cuts and all allies have increased their defense spending. Before they were cutting billions, now they are adding billions," he said.
Stoltenberg told lawmakers that European allies and Canada have spent an additional $41 billion in the last two years and that by the end of 2020, that figure will rise to $100 billion.
"That money will allow us to invest in new capabilities our armed forces need, including advanced fighter aircraft, attack helicopters, missile defense and surveillance drones," he said. "This is good for Europe and it is good for America."
In a wide-ranging speech in which he talked about NATO's importance in winning the Cold War and fighting Russian aggression and terrorism, he also praised the U.S. and NATO's effort to defeat ISIS in the Middle East — saying the coalition made "remarkable progress."
"Thanks to American leadership and our collective efforts, we have stopped this brutality and millions of people have been liberated," he said.