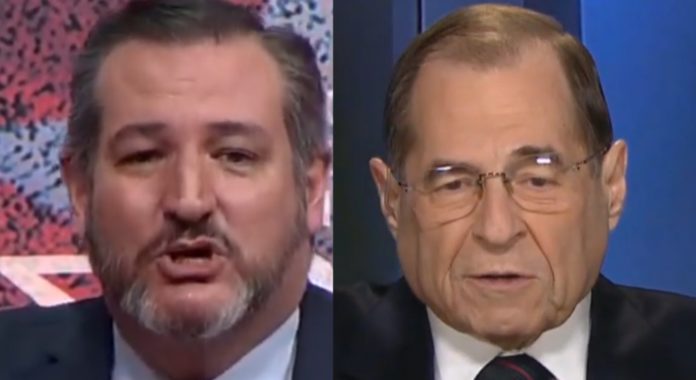 Ted Cruz just cut through the desperate Democrats and exposed them for what they are: rank political hacks.
The Mueller report seems to have come up empty - we haven't seen it yet but with no indictments related to Russian collusion we must assume they found nothing.
Did the Democrats accept the news and vow to move forward and start working with Trump for the good of the country? Nope and that has Ted Cruz furious.
From The Hill:
Sen. Ted Cruz (R-Texas) said Sunday the Democratic House majority is determined to impeach President Trump, regardless of the findings in special counsel Robert Mueller's now-concluded investigation into Russian election meddling.
Lamenting what he called "extremism" on the part of the Democrats, Cruz cited remarks by House Judiciary Chairman Jerrold Nadler (D-N.Y.) in an earlier segment on CNN's "State of the Union" that the House's mandate goes beyond investigating crimes. Cruz added  that the House "doesn't care about the basis" for impeachment.
When asked by CNN's Dana Bash whether he agreed with Trump's frequent characterization of Mueller's investigation as a "witch hunt," Cruz demurred, but said the special counsel's team included too many "partisan Democrats" and "went on far too long."
"By doing that, it undermined the credibility and impartiality of the special counsel's office," he said. "I'm concerned that it may have become a fishing expedition… not a single person was indicted for colluding with the Russians."
Cruz added that if the investigation concludes no collusion between Trump's campaign and Russia took place, "that's good news for the American people."
From Townhall:
"If anyone thinks that the Mueller report being concluded is the end of the Democrats' attempt to take down President Trump, they haven't been paying attention the last two years," Cruz explained.
Cruz pointed to an interview Bash conducted earlier in the show with House Judiciary Chairman Jerry Nadler (D-NY) as an example of what he was referring to. Nadler explained why Congress would be conducting further investigations into the alleged collusion between the Trump campaign and Russia.
"Yesterday, the Mueller report was going to be the end all and be all. It was going to be the salvation for the Democrats and destroy President Trump. Now, you can already see the Democrats pivoting away and saying, 'Okay, we need to do other investigations. There's gotta be someone else. There's gotta be the Southern District of New York. It's gotta be the New York Attorney General. It's gotta be Congress.'"
But, Dana, my point is, you ask Congressman Nadler whether the House is going to impeach the president and I'll answer that for you. Yes. They fully intend to impeach the president and they don't care about the basis," Cruz explained. "Twice Congressman Nadler said something remarkable. He said, 'Listen, the special counsel's focused on crimes. We're not all that concerned with crimes. Our focus is – this is Democrats in the House – is much broader than crimes.' What they're basically saying is they're going to impeach the president for being Donald Trump and they don't care about the evidence, they don't care about the substance."
"My point is the extreme left of the Democratic Party, they have so much anger and hatred directed at the president that we're going to see the Democrats move forward with impeachment, whatever the evidence, that's why you're seeing Democrats like Congressman Nadler say, 'Don't worry about crimes. Our focus is not on crimes. That's Bob Mueller's focus. Our focus is broader.' What their focus is is politics."