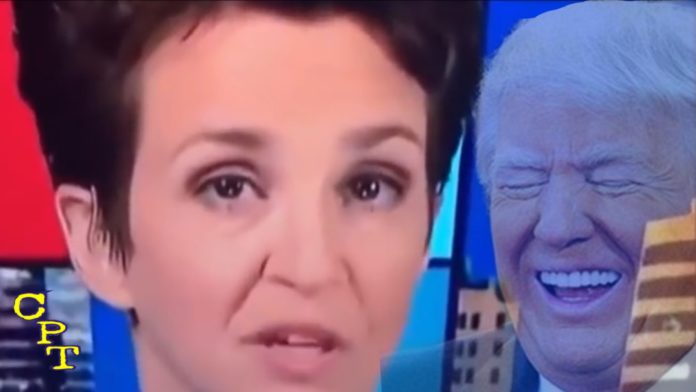 Rachel Maddow and her friends at both CNN and MSNBC all got a brutal dose of Hollywood karma this week.
They, all of them, lied to their audience and pushed a phony narrative that they knew they could not prove. the one thing you never do when making fiction is lying to the audience - they will never forgive you for it.
Maddow arranged a few suspicious smoke signals into the biggest bonfire since Game of Thrones and her audience ate it up.
There was always a new vague bombshell that could be spun by lesser minds into all new trails of evidence to follow. So rune in tomorrow we will have a new bombshell.
Well, like lemmings, they all went off the cliff together and it seems they are holding Rachel personally responsible.
From The Daily Caller: MSNBC host Rachel Maddow lost half-a-million viewers in just one week after special counsel Robert Mueller's report indicated that he did not find enough evidence to support collusion between the Trump campaign and Russia.
"The Rachel Maddow Show" on MSNBC delivered monster ratings for the network, cementing the cable host as the left-wing foil to Fox News' Sean Hannity. Maddow consistently finished 1st or 2nd in overall cable news ratings over the past year, sometimes garnering more than 3 million viewers.
But according to The Daily Beast, Maddow's show dropped 500,000 viewers in just one week after the Mueller report dropped.
"Maddow, who has consistently vied for the first or second top-rated cable news program, was sixth on Monday evening, down almost 500,000 total viewers from the previous Monday, as was MSNBC's second top-rated program in primetime, 'The Last Word With Lawrence O'Donnell,'" The Daily Beast reported.
From The Daily Wire:
Sources within MSNBC told the Beast they weren't worried and that they would now "pivot to 2020."
"This stuff ebbs and flows," a network insider told the Beast. "I think we're ebbing."
The network now appears to hope, according to the Beast, that their audience's ongoing hatred of Trump will carry them until the 2020 election.
"The hope now is that Trump's conduct as president, along with the ramping up of the 2020 presidential campaign, will prove powerful storylines that will give MSNBC the opportunity to regroup. Hayes led his show Tuesday night with an interview with Sen. Bernie Sanders (I-VT) and South Bend Mayor Pete Buttigieg about the Trump administration's decision to pursue yet another repeal of Obamacare," the Beast wrote.
The cash cow is dying and that's why they're clinging so tightly to it (it's also why they kept all left/liberal dissent off the air for 3 years). They couldn't have their audience know any of this was in meaningful dispute: https://t.co/ruR9qQYhX4

— Glenn Greenwald (@ggreenwald) March 27, 2019
Not just NBC as a corporation made huge amounts of profit off this scam, but so did their stars & personalities. They become unimaginably rich for life by peddling a fraudulent story for 3 years while purposely ensuring their audience never heard from those who questioned it.

— Glenn Greenwald (@ggreenwald) March 27, 2019