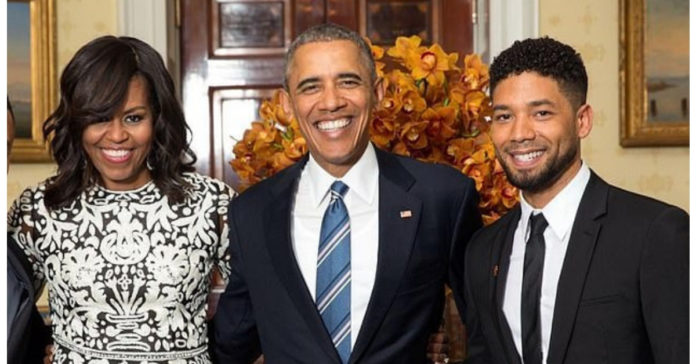 The Jussie Smollet case is an absolute disgrace and America wants answers. We cannot have two sets of justice systems in this country.
We cannot allow political influence to stop our leaders from doing the right thing. We all saw what the rich do with their kid's college admissions - this is just more of the same two- tied system that is ruining this great nation.
We don't know the whole story yet, but this case smells bad. We have former Obama aides making phone calls and now we learn that Smollet's sisters worked for Obama.
The sisters were with Obama from the beginning, back when he was a nobody in 2008. Read her Instagram post below…they seemed close.
From The Daily Mail:
Text messages exchanged between Cook County State's Attorney Kim Foxx and ex-Michelle Obama aide Tina Tchen continue to face increasing scrutiny in the wake of Smollett's record being wiped clean on Tuesday.
Tchen and Smollett's sister Jurnee Smollett-Bell were pictured together at an event at Austin's South by Southwest and the United State of Women Summit in Los Angeles early last year.
Both of Smollett's sisters also worked for the Obama campaign in 2008 and 2012 and Smollett-Bell also reportedly visited Tchen in the White House.
Smollett himself has been pictured with the Obamas at the White House and once danced on stage with Michelle in a viral video from an event last year.
Tchen, who has deep ties to Chicago politics and is friends with Mayor Rahm Emanuel's wife, wanted her to convince Chicago PD to hand the investigation over to the FBI and Foxx agreed to try.
'I wanted to give you a call on behalf of Jussie Smollett and family who I know. They have concerns about the investigation,' she said in her first text.
Hours later, Foxx received a text from one of Smollett's relatives. Over the course of the next two weeks, Foxx tried to have the case handed over to the FBI.
'Spoke to the superintendent earlier. He is going to make the ask. Trying to figure out logistics. I'll keep you posted,' Foxx said in a February 13 text.
By then, there had been questions surrounding Smollett's cooperation with the investigation but the actor was, officially, still being treated as a victim.
The relative responded: 'OMG this would be a huge victory.'
 Foxx replied: 'I make no guarantees but I'm trying.'
Later that day, she emailed Tchen saying: 'Spoke to the Superintendent Johnson. I convinced him to reach out to FBI to ask that they take over the investigation. He is reaching out now and will get to me shortly.'
From Big League Politics:
Michelle Obama's former chief of staff Tina Tchen, who intervened on Jussie Smollett's behalf with Cook County prosecutor Kim Foxx, spoke side-by-side with Jussie Smollett's sister Jurnee at the May 5, 2018 United State of Women Summit in Los Angeles, California.
Tchen is the founder of the Time's Up Legal Defense Fund, which she promoted with Smollett's sister, bragging that the group raised about $21 million in 100 days.
Here is Jurnee Smollett Bell's Instagram post as Barack Obama was leaving office in January 2017:
"Feeling a lot of emotions. I remember meeting then Senator @barackobama 9 years ago. I'd been invited to introduce him in Nevada during the primaries. He was the underdog, the odds were stacked against him. Said he was too young, too black, too different…he was an other.
I've always been an other so I saw myself in him. My own relative told me I was wasting my time, going state to state, knocking on doors for this guy with the funny name. I can't tell you how many people hung the phone up on my sister @jazzsmollettwarwell and me as we clocked in our hours, phone banking. Working as if this was a full time job, I worked for free, because this work was food for my soul.
They whispered that you couldn't do it. That we couldn't do it. And then tried to block you even when we proved them wrong. TWICE. You will go down as the greatest president who did the most with the least help from his "congressional leaders". So I thank you for being you. Unapologetically. Your very existence demanded that I take the limits off my own. Before you, I lived in a world of boundaries and limits. You were audacious enough to dream big, and demanded we dream even bigger.
So thank you for all you've given us. We will keep dreaming, keeping fighting, keep knocking on doors, keep traveling and spreading the gospel truth. Because it never was about you, it was about us, the "others". Yes we can. Yeswe did. Yes we will.#powertothepeople ✊🏽 #ThanksObama #tbt #mypresident.