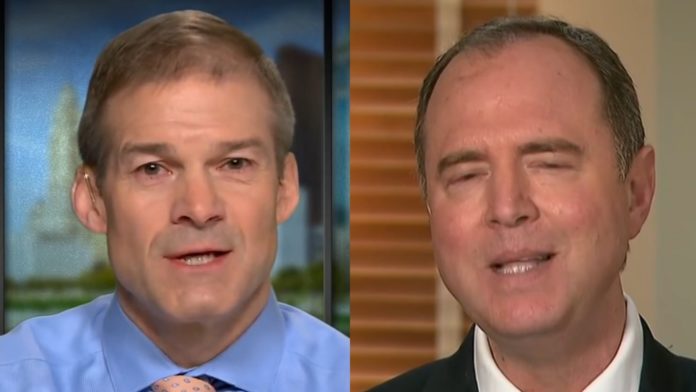 Adam Schiff is doubling down on stupid. Like the boy who cried wolf, Adam is still out there calling for collusion.
Thankfully, Jim Jordan smacked some sense into him before issuing his list of people who should face a federal investigation.
From Fox News: House Judiciary Committee Member Jim Jordan said Rep. Adam Schiff is ignoring the facts while he continues to claim collusion exists between President Trump and Russia.
"Undoubtedly there is collusion… we will continue to investigate the counter-intelligence issues," Schiff (D-Calif.) said.
"Did he not read [A.G.] Bill Barr's letter?" Jordan (R-Ohio) asked incredulously on "America's Newsroom."
Jordan said that in Barr's document on the Mueller report, the special counsel probe found that Russia dangled opportunities to collude multiple times but the Trump team "didn't bite."
Jordan said that even fired FBI Director James Comey questioned the veracity of the Trump-Russia dossier, calling it "salacious and unverified."
He said those involved in paying former British spy Christopher Steele to compile the allegations against Trump "need to be investigated and held accountable."
Then Jim Jordan got serious and issued his list. From Fox Business:
"If you go back to this dossier, one party's opposition research document, dressed all up, made to appear to be legitimate intelligence, take it to a secret court to get a warrant despite the other party's campaign—that is never supposed to happen in this country," Rep. Jim Jordan, R-Ohio, told Fox Business' Lou Dobbs on Tuesday.
Rep. Jordan said there are key people at the FBI who have all been fired, demoted or left the FBI, including Jim Comey, Andrew McCabe, James Baker, Lisa Page, Peter Strzok, John Brennen and most importantly Fusion GPS founder Glenn Simpson that need to be questioned.
"[Simpon] took the fifth in front of the Judiciary Committee last Congress," he said. "Glenn Simpson is the guy who was paid by the Clinton Campaign through a law firm Perkins Coie who went and hired the foreigner Christopher Steele who put this dossier together and he has not answered our questions."