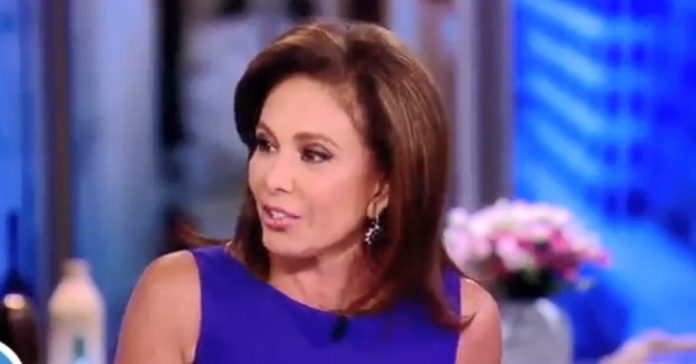 Fox News is finally revealing what happened to Jeanine Pirro and President Trump is not happy.
Pirro has been suspended by the conservative network, but there is no reporting that she has been fired.
A firestorm erupted after Pirro made some comments about Ilhan Omar and Trump came to her defense today demanding Fox bring her back. This is a developing story…
From CNN: Jeanine Pirro, whose show did not air on Saturday night, was suspended by Fox News after her widely criticized commentary doubting Congresswoman Ilhan Omar's patriotism, according a source familiar with the matter.
Fox did not announce the suspension publicly. The network declined to confirm or deny that Pirro has been suspended. There is no word on whether Pirro's show will return next week.
At the same time, there is no indication that she has been fired from Fox. The source said she has not been fired.
Pirro is one of the network's highest-rated weekend hosts, well known for her vehement defenses of President Donald Trump and attacks against his perceived enemies.
On Sunday morning the president returned the favor, tweeting, "Bring back @JudgeJeanine Pirro. The Radical Left Democrats, working closely with their beloved partner, the Fake News Media, is using every trick in the book to SILENCE a majority of our Country. They have all out campaigns against @FoxNews hosts who are doing too well."
Last Saturday night Pirro questioned whether Omar's Islamic religious beliefs stand in opposition to the US Constitution, prompting Fox to say "we strongly condemn Jeanine Pirro's comments."
The network said at the time that the views Pirro expressed "do not reflect those of the network and we have addressed the matter with her directly" — but declined to say if she was being sanctioned in any way.
Several advertisers subsequently distanced themselves from Pirro's weekly show, called "Justice."
JUST IN: Jeanine Pirro suspended by Fox News over comments about Ilhan Omar's hijab: report https://t.co/IPpndKgixy pic.twitter.com/NUPoywsjPd

— The Hill (@thehill) March 17, 2019