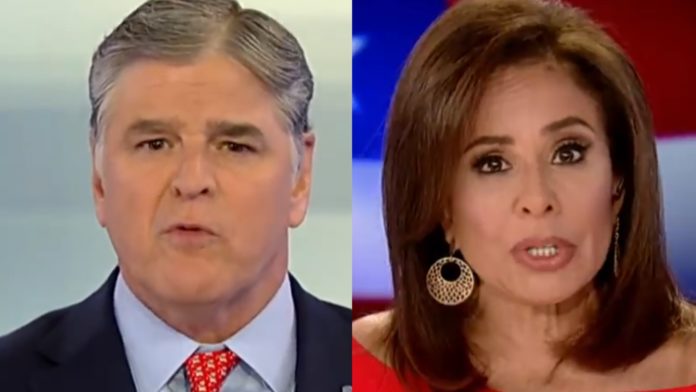 Sean Hannity had President Trump on last night for his first interview since the Mueller report dropped.
Trump held nothing back and went on the offensive against his enemies. He called them out by name and he accused them of crimes against the state. But the big news happened when Sean revealed when Judge Pirro will be back on the air.
From The Daily Caller: Fox News host Sean Hannity on Wednesday revealed that his fellow host, Judge Jeanine Pirro, will be back this week to host her Saturday show.
Hannity's comment on Pirro's status came during his Wednesday phone interview with President Donald Trump and was a reaction to the president complimenting several Fox News hosts and other "fair" media figures and expressing his "hope" that the Saturday "Justice with Judge Jeanine" host would be "back soon."
"Fortunately, we have had some incredible people that really were fair," said Trump. "When you mention Rush [Limbaugh] or Mark Levin, or Steve Doocy, and Ainsley [Earhardt] in the morning, and Brian [Kilmeade] and Laura [Ingraham], Jesse [Watters], Jeanine [Pirro] — I hope Jeanine's back soon."
"She's back Saturday," Hannity interjected.
Today Trump called for Adam Schiff's resignation and smacked the media who pushed the fake Russian story.
Congressman Adam Schiff, who spent two years knowingly and unlawfully lying and leaking, should be forced to resign from Congress!

— Donald J. Trump (@realDonaldTrump) March 28, 2019
Mexico is doing NOTHING to help stop the flow of illegal immigrants to our Country. They are all talk and no action. Likewise, Honduras, Guatemala and El Salvador have taken our money for years, and do Nothing. The Dems don't care, such BAD laws. May close the Southern Border!

— Donald J. Trump (@realDonaldTrump) March 28, 2019