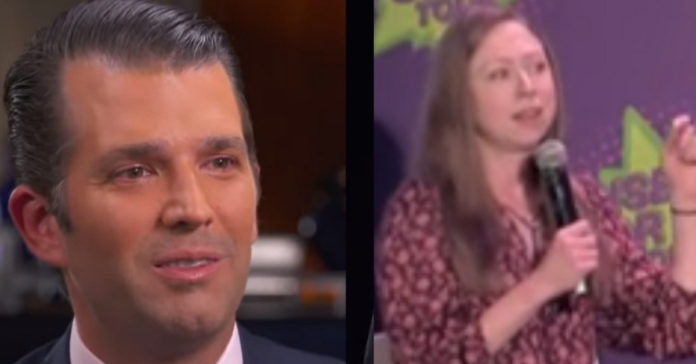 Don Trump Jr. just stepped in and defended Chelsea Clinton from a vicious and moronic liberal mob.
If you can believe this, and based on the intolerance of the left this may be what is coming from them, a bunch of students blamed Chelsea for the terror attack in New Zealand.
The misguided mob blamed Chelsea because she had the courage to call out Ilhan Omar's anti-Semitic comments. Somehow that caused the terror attack?
From The Hill: Donald Trump Jr. defended Chelsea Clinton on Saturday after she was confronted at a vigil honoring the victims of the New Zealand mosque attacks and accused of spreading hatred.
"It's sickening to see people blame @ChelseaClinton for the NZ attacks because she spoke out against anti-Semitism," the president's eldest son wrote on Twitter.
"We should all be condemning anti-Semitism & all forms of hate. Chelsea should be praised for speaking up. Anyone who doesn't understand this is part of the problem," he added.
Clinton, an author and the daughter of former President Bill Clinton and former Secretary of State Hillary Clinton, was confronted while attending a vigil for victims of Friday's massacre at two mosques in Christchurch, New Zealand. The shooting left 49 people dead and dozens injured.
"This right here is the result of a massacre stoked by people like you and the words that you put out into the world," a student can be heard saying to Clinton in video footage. "And I want you to know that and I want you to feel that deep down inside. Forty-nine people died because of the rhetoric you put out there."
Clinton, who is pregnant with her third child, said she was sorry the students felt that way.
"Certainly, it was never my intention," Clinton said. "I do believe words matter. I believe we have to show solidarity."
The confrontation reportedly stemmed from Clinton's condemnation of comments made by Rep. Ilhan Omar (D-Minn.) in recent weeks. Omar has been at the center of a debate on anti-Semitism after her remarks about U.S.-Israel relations.
Clinton, who is the vice chairwoman of the Clinton Foundation, condemned Friday's attacks on the New Zealand mosques.
"Heartbroken & horrified by the white nationalist terrorist attack during Jummah on the mosques and Muslim community in Christchurch," she wrote on Twitter on Friday. "Keeping all affected by this tragedy in my heart and prayers. We need a global response to the global threat of violent white nationalism."
It's sickening to see people blame @ChelseaClinton for the NZ attacks because she spoke out against anti-Semitism. We should all be condemning anti-Semitism & all forms of hate. Chelsea should be praised for speaking up. Anyone who doesn't understand this is part of the problem.

— Donald Trump Jr. (@DonaldJTrumpJr) March 16, 2019
Here is a pregnant Chelsea Clinton being accosted in public by NYU students blaming her for the New Zealand massacre. You are free to have your opinion, but how you express yourself matters. Note how Clinton never shuts down or stops listening, despite not deserving any of this. pic.twitter.com/V6XcC3lWCB

— Amee Vanderpool (@girlsreallyrule) March 16, 2019