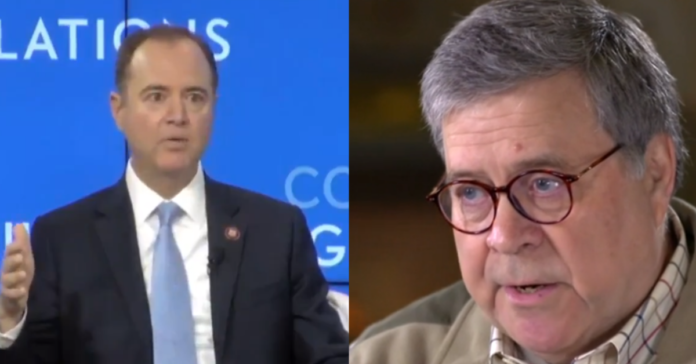 Adam Schiff is the biggest leaker in Washington and he seems very nervous as Bill Barr closes in on the deep state.
Look, if Barr is correct and that it is not Trump but his enemies who are shredding our institutions, and that what they did to Trump was unprecedented, then heads will roll.
And Adam Schiff has every right to be nervous. From The Hill:
House Intelligence Committee Chairman Adam Schiff (D-Calif.) on Tuesday called Attorney General William Barr the "second-most dangerous man in the country."
"We find ourselves, I think for the first time, with an attorney general who really is the president's defense lawyer and spokesperson, who's quite good at it and has the veneer of respectability to camouflage what he's doing," Schiff said, referring to Barr, during remarks at the Council on Foreign Relations in Washington, D.C.
"He is not the sophist that Giuliani is, he's much more dangerous, and I think he's the second-most dangerous man in the country," he added, referring to President Trump's lawyer, Rudy Giuliani.
Schiff, a frequent critic of Trump, did not say whom he believes is the most dangerous man in the U.S.
His comments on Tuesday echo similar statements he made in a USA Today op-ed last month when he wrote that Barr was "grossly unfit for office."
Schiff also said Tuesday that his committee intends to hold a "series of hearings" on the first volume of special counsel Robert Mueller's report to look at Russian attempts to interfere in the 2016 election.
The House is expected to vote next week on whether to hold Barr and former White House counsel Don McGahn in contempt of Congress for defying congressional subpoenas.
Rep. Adam Schiff on AG Barr: "He's the second most dangerous man in the country." https://t.co/iEjNbwYgoV pic.twitter.com/StpfRyLlf9

— The Hill (@thehill) June 5, 2019