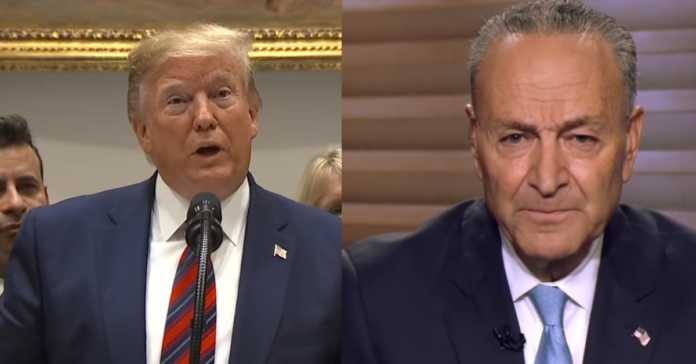 The Democrats are arrogant. Plan and simple. Everyone knows it and no one likes it. Unless you are a preferred media member in New York City who is on the inside, the joke is always on us.
This attitude led Harry Reid and other Democrats to change the rules of the Senate so Barack Obama could get more judges approved.
It was a gamble that Mitch McConnel and others warned the Democrats about, but they would not listen.
Since Trump's historic win, he has literally remade the federal judiciary in what is the ultimate payback to Dems arrogant overreach.
One of the tools the GOP and Trump have used is to get rid of the blue slip in certain cases.  Blue slip allows home state senators to block or approve judges.
Trump overruled Feinstein and Harris earlier in the year when they tried to block his judges and now he just overruled Chuck Schumer.
From The Daily Caller: The Senate confirmed Judge Joseph Bianco and Michael Park to the 2nd U.S. Circuit Court of Appeals, putting President Donald Trump on the verge of flipping the panel to conservative control.
Bianco and Park are Trump's second and third appointees to that panel. If Trump fills the remaining two vacancies on the 2nd Circuit, Republican appointees will control the court. The two were confirmed with separate votes Wednesday and Thursday.
The 2nd Circuit is the federal appeals court that covers Connecticut, New York and Vermont. Given its jurisdiction over Manhattan, the 2nd Circuit has a large and important docket of corporate and securities law cases.
Though Trump has replaced appeals judges at a record clip, he has only flipped the 3rd U.S. Circuit Court of Appeals to majority Republican appointees.
Both men represent Republican determination to move judicial nominees into key posts at a steady pace. New York Democratic Sens. Chuck Schumer and Kirsten Gillibrand withheld so-called blue slips for Bianco and Park. Under past Senate convention, the Senate Judiciary Committee would not convene a confirmation hearing until senators return an opinion on a judicial nominee selected for a court in their state.
Liberal groups said the GOP disregarded Senate tradition for partisan advantage, though Republicans say the blue slip rule has been enforced irregularly in the modern period.
"The Senate majority's disregard for their fellow Senate colleagues, and for the people of New York who elected them, is fueled by partisan determination to stack our courts with nominees who will disregard the civil and human rights of us all," said Kristine Lucius of the Leadership Conference on Civil and Human Rights.
Before his elevation to the 2nd Circuit, Bianco was a judge for the federal trial court covering Brooklyn, Long Island, Staten Island and Queens. A graduate of Columbia Law School, he had short stints in private practice and extensive experience as a federal prosecutor and Justice Department lawyer.
"Joseph Bianco has a proven track record of fairly applying the law and adhering to the Constitution," said Carrie Severino of the conservative Judicial Crisis Network. "I enthusiastically applaud the Senate for confirming him and am confident he will be an exceptional judge on the 2nd Circuit."
Prior to his nomination, Park was a named partner at Consovoy McCarthy Park PLLC, an upstart boutique that built a national reputation handling politically sensitive litigation. The firm currently represents President Trump in various lawsuits relating to his tax returns and business interests, as well as the plaintiffs in the Harvard affirmative action trial.