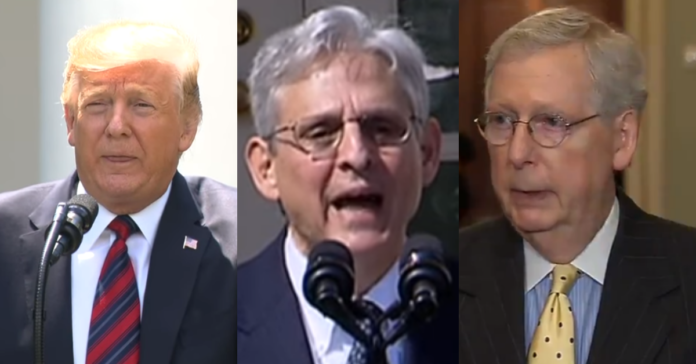 President Trump came out firing against the judge, appointed by Obama, who ruled against him in a financial disclosure case.
This is just the first step in a long process as Trump immediately appealed setting up a showdown with Merrick Garland of all people.
From Politico: President Donald Trump's lawyers wasted no time in filing an appeal of a judge's ruling that could lead to Congress receiving years of the president's tax and financial records.
Trump's attorneys on Tuesday filed a brief notice appealing Washington-based U.S. District Judge Amit Mehta's Monday decision rejecting the president's demand for a preliminary injunction that would block his longtime accounting firm Mazars USA from handing over records subpoenaed by the House Oversight and Reform Committee.
The appeal will head to the U.S. Court of Appeals for the D.C. Circuit, but Trump will need urgent relief from that court since Mehta refused the president's request for a stay. As a result, without a further order from a higher court, the accountants could be compelled to turn over the records as early as next week.
Enter Merrick Garland and a chance to get revenge on the GOP. From The Hill:
President Trump's appeal of a subpoena from House Democrats to turn over his financial records will be heard by a court where snubbed Supreme Court pick Merrick Garland is the chief judge.
Garland serves as the chief judge on the D.C. Circuit Court of Appeals. Trump's lawyers are asking that court to review a federal judge's order allowing the House Oversight and Reform Committee's subpoena to move forward.
Garland's Supreme Court nomination by former President Obama in 2016 became a lightning rod for controversy when the Republican-controlled Senate, led by Majority Leader Mitch McConnell (R-Ky.), refused to hold a hearing on his nomination until after the 2016 presidential election.
When Trump won the presidency, he appointed Neil Gorsuch to the Supreme Court seat vacated by Associate Justice Antonin Scalia following Scalia's death.
Garland ultimately ended up remaining on the D.C. Circuit Court of Appeals.
Appeals are heard by panels with three judges, so there is no guarantee Garland will hear the case regarding Trump's financial records.
Committee Chairman Elijah Cummings (D-Md.) issued the subpoena earlier this year after Democrats took control of the House. He is seeking Trump's financial records to be turned over from accounting firm Mazars.