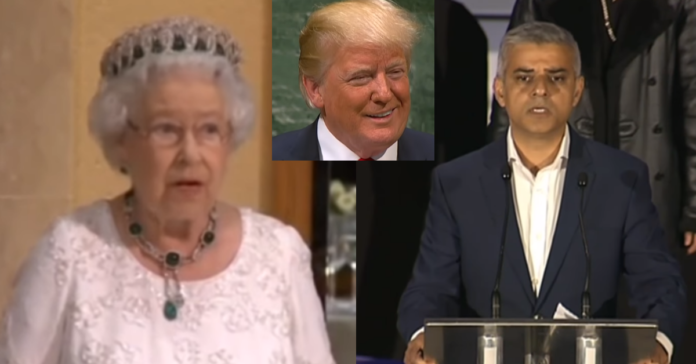 Anti-Trump London Mayor Sadiq Khan just publicly trashed President Trump saying he is a lesser man and president than Bush and Obama… and should be treated that way.
Wow. What a jerk. Thankfully Queen Elizabeth wasn't having any of it and promptly embarrassed the political hack, Khan. From The Hill:
London Mayor Sadiq Khan on Friday slammed President Trump ahead of his state visit to the United Kingdom next month, saying Trump is not in the "same class" as presidents who made such trips in the past.
"Of course we should have a close relationship with the president of the United States, but we shouldn't be rolling out the red carpet; we shouldn't have a state banquet," Khan said during an interview with LBC, a British talk-radio station.
"History tells us only two presidents have had a state visit," Khan said, referring to former Presidents Barack Obama and George W. Bush.
"President Trump is not in the same class as those two," added the London mayor, who has openly feuded with Trump in the past.
Trump is scheduled to travel to the U.K. June 3-5, marking his first official state visit to the country since becoming president.
Enter Queen Elizabeth who embarrassed Khan with the snub heard round the world. From UK Express:
Labour's Mr. Khan was left off the guest list by the Monarch, despite announcing he would be happy to meet the American. Mr. Khan's spokesman, Jonathan Weisgard, told Newsweek: "The mayor has not been invited to the state banquet." Invitations were sent to Lib Dem leader Sir Vince Cable and Labour leader Jeremy Corbyn, who both declined to attend.
Mr Khan and Mr. Trump have clashed on numerous occasions in the run-up to the President's second state visit, the first being last year.
Mr Khan, who has been condemned by Mr Trump for London's knife crime epidemic, agreed to allow a blimp of the Republican to fly over the Capital in protest to his last visit.
The blimp depicted Mr Trump as a giant baby.
In protest of Mr Khan's decision to allow the blimp to fly over London, a second blimp was made that also depicted the major as a giant baby was flown over the city.
Whether the so-called 'Trump Baby Blimp' will be used again for the state visit planned for early next month remains unknown.
President Trump also locked horns with Mr Khan over his controversial decision to attempt to temporarily ban Muslims from entering the US in response to terrorism.
Mr Khan is Muslim himself and was elected mayor in 2016.
Mr Trump is reportedly hoping to meet Mr Khan's predecessor, Boris Johnson, for dinner during the visit.
Brexit Party leader Nigel Farage, who is a friend of Mr Trump's, could also make the guest list.