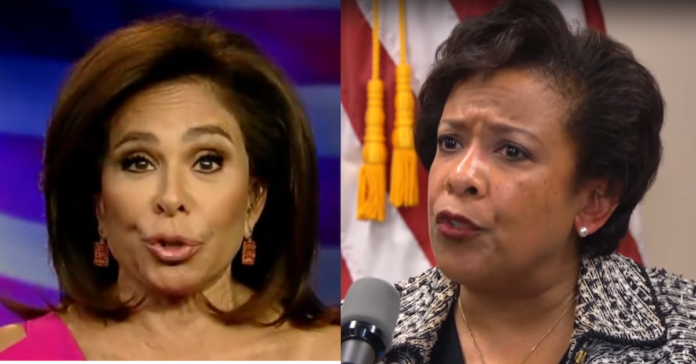 Judge Pirro just put Loretta Lynch on notice and the rest of Obama's gang that couldn't shoot straight but still tried to take down Trump.
She called what they did the "biggest political con job and the closest attempt to a successful coup in American history."
And she is not wrong either… More importantly, Pirro, who has Trump's ear, just said payback's coming. And she would know.
From Newsweek: The subject of Pirro's nearly seven-and-half-minute opening remarks centered around the testimony of Attorney General William Barr to the Senate Judiciary Committee on Wednesday, and the reaction from those on the "left" to what the "lucid, focused and unflappable" lawyer had to say.
"The Democrats have turned into the angry, unreasonable mob that you usually see in the movies, but have you ever seen a real-life bunch of crazies so desperate to hang on to a narrative dispelled by their own team that they're running around like chickens with their own heads cut off?," Pirro said. "Their one mantra 'impeach anyone who gets in their way' and this week it was this man — Attorney General Bill Barr."
Pirro referenced Barr's offer for a dozen lawmakers — six Republicans and six Democrats — to view a version of special counsel Robert Mueller's 484-page report before his testimony, but according to Politico only two Republicans, Rep. Doug Collins and Sen. Lindsey Graham, had viewed the report as of Tuesday.
"No Democrats took advantage of Barr's offer to look at the less-redacted report, they didn't even want to see it, but the show put on by the hysterical, hyperventilated, histrionic, frenzied Democrats dripping with hate and venom was must-see tv," Pirro said before playing clips of Sens. Cory Booker, Kamala Harris and Mazie Hirono questioning Barr.
Pirro went on to blast the "mainstream media" for inaccurate reporting, airing a clip of Barr telling the committee that when he called Mueller after receiving a letter regarding his four-page summary, Muller said he didn't object to Barr's summary but thought that the media was getting it wrong.
"Now ain't that special? Even Robert Mueller now thinks the mainstream media can't get the news right," Pirro said before telling Mueller he should ask James Comey to contact news outlets like the New York Times, CNN and MSNBC in order to complain. Pirro then scolded Mueller about writing a 400-plus report and expecting "everyone to get it just the way you wanted it in four pages."
Pirro later called Mueller's investigation the "biggest political con job and the closet attempt to a successful coup in American history."
"They hate Trump and they'll do anything, including subjugating the Constitution and our system of justice to destroy the man," Pirro said. "Their desperation to hang on to a narrative so torn up, worn out and destroyed isn't entertaining anymore. It's not even worth talking about anymore; I'm done with it."
"It's time to investigate the beginning of the coup and who in the DOJ, FBI and White House signed on to prevent and overturn the will of the American people. Grab your popcorn, folks. It's showtime," she said.
Citing anonymous sources, Pirro stated that "multiple criminal leak investigations are underway" and that FISA warrants are being reviewed, as well as the investigation that former FBI agent Peter Strzok "worked so hard to cover up."
"Multiple criminal leak investigations are underway, the FISA warrants are being reviewed, the beginning of the actual investigation that Peter Strozk tried so hard to cover up and the Inspector General's report expected to be damning to Comey's FBI and [Loretta] Lynch's DOJ expected to be out in weeks.
And then it's really showtime for [Barack] Obama, [John] Brennan, [James] Clapper, Lynch, [Susan] Rice, Strozk, [Andrew] McCabe, Rose and the whole Cardinal Comey crime family devoting to obstructing not only the will of the American people, but obstructing the very foundation of justice in this great nation," Pirro said.
Pirro proclaims according to her sources, "tables will turn" as DOJ is about to go after a bunch of people.

"Grab your popcorn folks. It's showtime…it's real showtime for Obama, Brennan, Clapper, Lynch, Rice, Strzok, McCabe, Rhodes and the whole cardinal Comey crime family." pic.twitter.com/CjeKcRKeqK

— Angelo Carusone (@GoAngelo) May 5, 2019