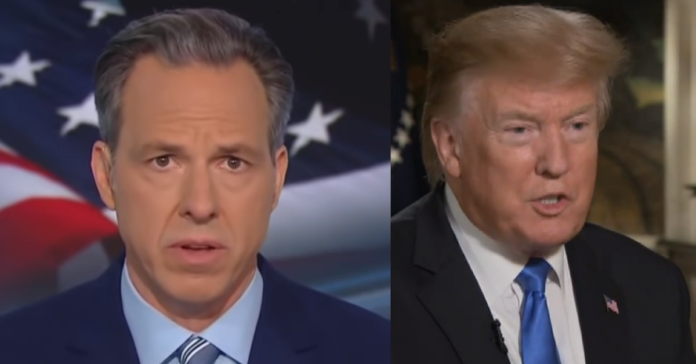 Jake Tapper finally came clean and admitted Trump is not getting enough credit for the amazing economy.
He also admitted that he is part of the problem preferring to report on the gossip rather than the hard facts.
Tapper said he was going to report on the Trump economy, and give Trump credit where he is due, but his show went with a new Russia angle because (it sells) Trump talked to Putin about Venezuela and other things - on the telephone. Oh, the horrors…
Look, it is good Tapper admits how the game is played but he should follow his own advice and give Trump the credit he deserves on a daily basis and stop the Russia nonsense. He should educate his viewers not feed them phony gossip.
From The Daily Caller: CNN anchor Jake Tapper asked a panel on his show Friday whether or not President Donald Trump was receiving enough credit for the current state of the economy.
The U.S. economy added 263,000 jobs in April, while the unemployment rate fell to 3.6%, making March the 103rd straight month of job growth.
"Does the president get enough credit for the economy? It really is doing astoundingly well," Tapper stated to his panel.
Washington Post reporter Seung Min Kim answered, "Exactly. And the economy is by far his best case for re-election.
And if he's not getting the sufficient credit for the economy, it's a lot of it because he steps on his own message.
I mean, again, with these BAFO economic news, you would be expecting the president to talk about it every day, just hammering that home in different messaging campaigns, but a lot of times he likes to focus on other things and he sometimes has a tendency to step on his own message."
Tapper followed up, "We were going to lead with the economy on the show, it was going to be the first block.
We were going to sing the numbers that we just sang, and then President Trump decided to talk to Vladimir Putin and talk about how Russia hoax and all of that."
"Today's a perfect example of that. White House aides were blanketing TV all day today, scheduled to talk about economic numbers they knew were coming out today, because they always come out on the first Friday of the month," CNN White House correspondent Abby Phillip stated.
"Instead, halfway through the day, this, with Trump and Putin yet again throwing everything off of message."