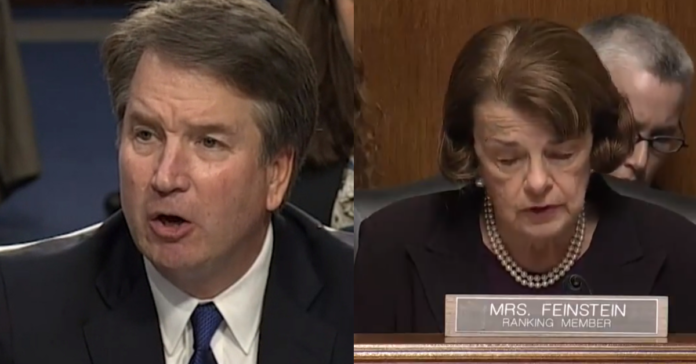 Brett Kavanaugh just embarrassed Dianne Feinstein, Cory 'Spartacus" Booker, and Kamala Harris.
They pulled the cheapest and dirtiest political stunt in America history when they smeared a good man for no reason other than Trump and the GOP appointed and confirmed him as a Supreme Court judge.
It was a shameful display as Kavanaugh's history is one of following the law and judicial impendence.
He does not decide his cases based on partisan leanings, which is what the left was convinced that he would do.
Instead, he keeps shocking them with his intelligent decisions. He just broke with the conservative majority and stuck up for the little guy casting the deciding vote against Apple in a case that will send shockwaves through the tech industry.
From CNBC:
The Supreme Court on Monday ruled 5-4 against Apple in a case involving its signature electronic marketplace, the App Store, allowing iPhone users to move forward with an antitrust suit against the company.
The iPhone users argued that Apple's 30% commission on sales through the App Store is an unfair use of monopoly power that results in inflated prices passed on to consumers.
Apple argued that only app developers, and not users, should be able to bring such a lawsuit. But the Supreme Court, in an opinion authored by Justice Brett Kavanaugh, rejected that claim.
"Apple's line-drawing does not make a lot of sense, other than as a way to gerrymander Apple out of this and similar lawsuits," Kavanaugh wrote.
Shares of Apple, already battered by trade concerns, were down more than 5%, lagging the broader market.
The result was widely expected after arguments in November in the case, Apple v. Pepper, during which the justices seemed skeptical of Apple's arguments.
The case split President Donald Trump's two nominees to the high court. In a dissent joined by his fellow conservatives, Justices John Roberts, Clarence Thomas and Samuel Alito, Justice Neil Gorsuch wrote that the majority created an "artificial rule."
The legal battle over the company's online marketplace has dragged on for nearly a decade.
The result of the iPhone users' litigation could affect the way that Apple, as well as other companies that operate electronic marketplaces like Facebook, Amazon and Alphabet's Google, structure their businesses. For Apple, hundreds of millions of dollars in penalties could hang on the outcome.
BREAKING: #SCOTUS will allow iPhone users to sue Apple for alleged monopolization of the app market. Justice Kavanaugh, who has the opinion, joins liberals in the 5 to 4 decision. https://t.co/TsGFIKBr6w

— Kevin Daley 🏛 (@KevinDaleyDC) May 13, 2019