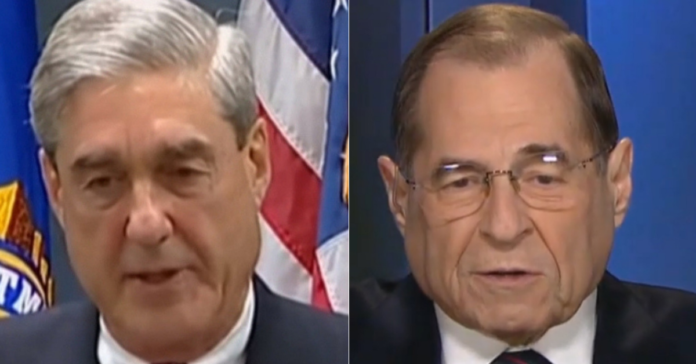 Robert Mueller does not speak or leak often. So when he does, it is very wise to pay close attention.
Especially if your name if Jerry Nadler who just got humiliated by Mueller who is refusing to go along with Nadler's new political stunt.
Nadler wants a spectacle, not a real investigation, in Congress. He wants Mueller to be the star witness, testifying for hours on national TV in front of a riveted nation.
But Mueller has other plans and just called out Jerry for trying to play politics with his investigation and will not play along.
From CNN: Special counsel Robert Mueller's team has expressed reluctance to him testifying publicly in front of the House Judiciary Committee, according to sources familiar with the matter.
The special counsel's team has expressed the notion that Mueller does not want to appear political after staying behind the scenes for two years and not speaking as he conducted his investigation into President Donald Trump. One option is to have him testify behind closed doors, but sources caution numerous options are being considered in the negotiations between the committee and the special counsel's team.
Justice officials are generally supportive of how the special counsel's team is proceeding with negotiations. As Attorney General Bill Barr told The Wall Street Journal last week: "It's Bob's call whether he wants to testify."
Special counsel spokesman Peter Carr and the Justice Department declined to comment on the current status of negotiations.
House Judiciary Chairman Jerry Nadler, a New York Democrat, has repeatedly said that Mueller must appear publicly, and he will subpoena Mueller if necessary.
"Eventually we will hear from Mueller because … we will subpoena him if we have to," Nadler told CNN earlier this month. "I certainly hope it doesn't come to the, to our necessity to subpoena him," he added.
Rep. Doug Collins, the top Republican on the Judiciary Committee, suggested at Tuesday's hearing, a meeting where former White House counsel Don McGahn did not appear after being subpoenaed, that Democrats appeared to have a lack of urgency scheduling Mueller's testimony.
"We've subpoenaed the documents, we've subpoenaed the underlying documents, we've subpoenaed stuff that we can't get, but the one thing that we seem to avoid is Mr. Mueller himself, the one who wrote it," Collins said. "We've asked since April about Mr. Mueller coming. But every time we seem to get close to Mueller, Mueller just gets pushed on a little bit. Haven't seen a subpoena here, and this is what's really amazing — we'll get back to subpoenas in a moment — but just think about that. You wanted the work of the author, but you don't want to talk to the author."