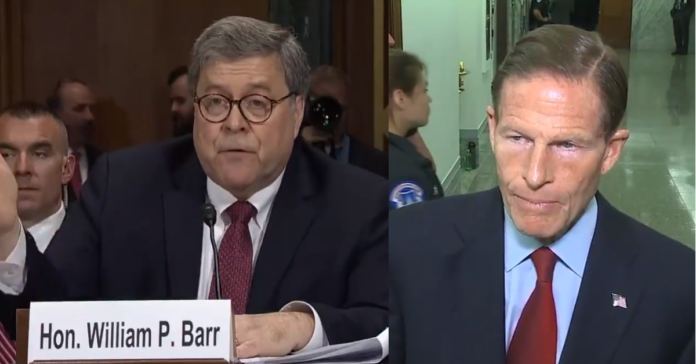 Attorney General William Barr had enough of the nonsense from the Democrats and specifically Senator Sleepy Dick Blumenthal.
No matter what the guy is talking about, he makes me yawn and want to change the channel. Which is what Barr did to Dick on live TV today after Blumenthal told Barr history would judge him harshly.
From Fox News: Attorney General William Barr fired back Wednesday at Democrats who for weeks have called his integrity into question over his handling of Special Counsel Robert Mueller's Russia report, suggesting during a testy Capitol Hill hearing they were only using the issue to score political points ahead of the 2020 election — and advising that the DOJ's role in the controversy is now "over."
"We have to stop using the criminal justice process as a political weapon," Barr said during a back-and-forth with Connecticut Democratic Sen. Dick Blumenthal.
The exchange was one of several heated moments during Barr's first hearing — before the Senate Judiciary Committee — since the release of the Mueller report. The testimony covered everything from Barr's decision not to pursue an obstruction case against President Trump to process delays in getting a redacted version of Mueller's report to the public to Mueller's apparent concerns about how Barr initially relayed his findings to Congress.
The dust-up with Blumenthal came after the senator told Barr "I think history will judge you harshly" and accused him of using his summary of Mueller's probe to exonerate Trump of obstruction of justice. The senator called Barr the "fall guy for this report."
"I didn't exonerate," Barr replied. "I said that we did not believe that there was sufficient evidence to establish obstruction."
Barr continued: "The job of the Justice Department is now over… the report is now in the hands of the American people. Everyone can decide for themselves. There's an election in 18 months – that's a very democratic process. But we're out of it."
Then there was this exchange where Barr cleaned his clock.
Barr: [Robert Mueller] was political appointee and he was a political appointee with me at the Department of Justice. I don't — you know, the letter is a bit snitty and I think it was probably written by one of his staff people.
Blumenthal: Did you make a memorandum of your conversation?
Barr: Huh?
Blumenthal: Did you make a memorandum of your conversation.
Barr: No, I didn't.
Blumenthal: Did anyone, either you or anyone on your staff, memorialize your conversation with Robert Mueller?
Barr: Yes.
Blumenthal: Who did that?
Barr: There were notes taken of the call.
Blumenthal: May we have those notes?
Barr: No.
Blumenthal: Why not?
Barr: Why should you have them?
Asked by Sen. Richard Blumenthal if Congress could review notes taken of the call between Attorney General William Barr and Robert Mueller, Barr says "no."

"Why not?" asks Blumenthal.

"Why should you have them?" Barr replies.https://t.co/u3hzgrIPtT pic.twitter.com/YdbBlcnICq

— CNN (@CNN) May 1, 2019