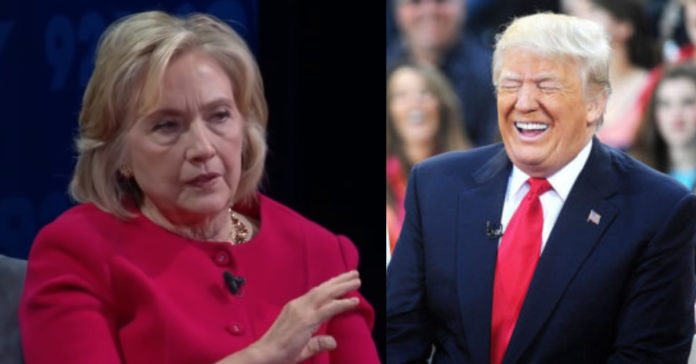 Hillary Clinton and the gang who couldn't shoot straight at back to their crooked ways. They famously tore apart the Democratic party by rigging the primary against Bernie causing his supporters to vote Trump or Jill Stein.
It was a huge blow Hillary could not overcome as Trump simply stood back and benefitted from 30 years of Clinton arrogance coming home to roost.
So no one is surprised that they are doing it again and it is a huge gift to Trump as no establishment stooge in the Democratic party will beat Trump in 2020.
There is too much history of their failing the average American combined with too much of Trump's successes for that same old playbook to work. But still, they try…
From Politico: The president of a liberal think tank responded to criticism from Sen. Bernie Sanders on Monday, the latest development in the biting back-and-forth between the progressive presidential candidate and an organization with ties to Hillary Clinton and the Democratic establishment.
The Vermont lawmaker on Saturday sent a letter to the board of the Center for American Progress and CAP Action Fund rebuking the think tank for playing what he called a "destructive role" in the "critical mission to defeat Donald Trump," The New York Times first reported. Sanders referenced an article and video published on the website of ThinkProgress — a news site started by CAP — that railed against the senator for his growing personal wealth.
Neera Tanden, president and CEO of CAP, noted in a statement Monday that ThinkProgress is editorially independent of CAP and CAP Action and called the video attacking Sanders "overly harsh."
"We believe the content of the ThinkProgress video critiquing Sen. Sanders is overly harsh and does not reflect our approach to a constructive debate of the issues," Tanden said.
ThinkProgress has also published content attacking Sens. Cory Booker (D-N.J.) and Elizabeth Warren (D-Mass.), posts that Sanders said belittled progressive ideals.
Tanden was a close adviser to Clinton during her 2016 campaign and has been criticized by Sanders supporters for helping stifle progressive activists, who complain that the Democratic Party's leadership orchestrated the nomination process and are beholden to corporate donors.
CAP was founded in 2003 by John Podesta, who served as chairman of Clinton's 2016 campaign and chief of staff to her husband, former President Bill Clinton.
More on Neera Tanden, Hillary's longtime crony and main PR spinner. From Mediaite:
The Times reports that when Tanden set Clinton up for an interview with Shakir back in 2008, she thought the interview would be an easily handled softball. Instead, Shakir asked tougher questions than Tanden anticipated, so they ended up having a confrontation where she touched him in some way.
From the report: Ms. Tanden responded by circling back to Mr. Shakir after the interview and, according to a person in the room, punching him in the chest.
"I didn't slug him, I pushed him," a still angry Ms. Tanden corrected in a recent interview
Shakir has left his old job to run Sanders' 2020 campaign, but tensions between Shakir and Tanden rose up again after ThinkProgress published a critical article about Sanders in light of the news that the senator is a millionaire.
In their piece the Times also quoted Tanden's mother, Maya Tanden, who gossiped that her daughter "can be very aggressive."
"She's not going to let anyone rule over her," she said, "and she has loyalty to Hillary because Hillary is the one who made her."
"Those Bernie brothers are attacking her all the time, but she lets them have it, too," Maya Tanden said. "She says Sanders got a pass" in 2016, "but he's not getting a pass this time."