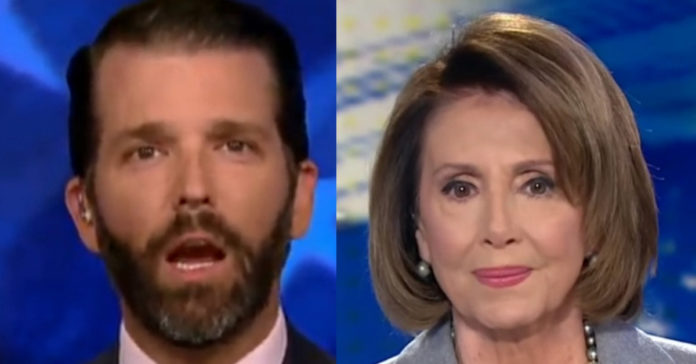 Donald Trump Jr just lit into Nancy Pelosi. Pelosi is between a rock and a hard place with the radical elements in her party.
She has tried to reign them in by publicly embarrassing them. She called their movement insignificant saying it was only 5 people.
Then Pelosi downplayed AOC's political prowess saying a glass of water could have won her deep blue district.
But it isn't working so Don Trump Jr stepped in and dropped the hammer.
From Newsweek: Donald Trump Jr lashed out at House Speaker Nancy Pelosi in an inflammatory tweet Sunday. The president's eldest son accused the Democratic politician of losing control of her party to freshman representatives Rashida Tlaib, Ilhan Omar and Alexandria Ocasio-Cortez.
"We've reached a sad point where [Nancy Pelosi] is so terrified of offending her new bosses, Omar/AOC/Tlaib, that those 3 could submit a resolution deeming 911 an inside job & I'm confident that 95% of House Dems would still be too afraid to cross them," he wrote. "They run the Dem Party now."
The three representatives have attracted significant media attention in spite of their short time in Congress. Known for their left-wing political views, the young politicians are often portrayed as a dividing force within the Democratic party.
Omar recently sparked a backlash with comments she made about the impact of 9/11 on the Muslim community. During a speech to the Council on American-Islamic Relations (CAIR) in March, the Minnesota congresswoman said:
"For far too long we have lived with the discomfort of being a second-class citizen and, frankly, I'm tired of it, and every single Muslim in this country should be tired of it. Cair was founded after 9/11 because they recognized that some people did something and that all of us were starting to lose access to our civil liberties."
On Thursday, The New York Post published an image of the Twin Towers attack on its front page with the words: "Rep. Ilhan Omar: 9/11 was 'Some people did something…"Here's your something … 2,977 people dead by terrorism."
Although some praised the move on social media, others, like The Daily Beast editor Harry Siegel, as "ugly."
Tlaib and Ocasio-Cortez have also faced their share of controversy. Tlaib found herself in hot water soon after taking her seat in Congress when she said: "we're going to impeach the motherfucker," referring to Trump