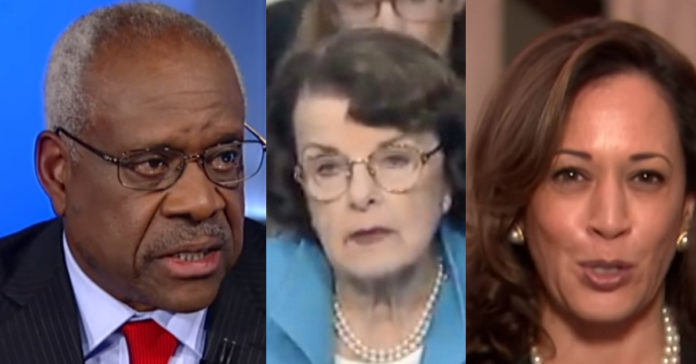 Clarence Thomas just put the Democrats in the Senate and specifically Dianne Feinstein and Kamala Harris over their horrific treatment of Trump's judicial nominees.
We all remember what they did to innocent man Brett Kavanaugh but Thomas points out other scandalous treatment Trump's picks have received for their religious beliefs.
He rarely speaks in public so when he chooses to inform the populace it is always wise to listen to his words.
From The Washington Examiner:  Supreme Court Justice Clarence Thomas is unimpressed with Senate Democrats' attempts to apply religious tests to Roman Catholic judicial nominees.
That Thomas is saying anything at all on the subject is notable given his reputation for being tight-lipped.
"I thought we got away from religious tests," Thomas remarked this year during Pepperdine University School of Law's annual banquet. He was referring to Article VI of the Constitution, which states that "no religious test shall ever be required as a qualification to any office or public trust under the United States."
Thomas' comments, which were flagged first by the Daily Caller, came in response to being asked specifically about a moment in 2017 when Sen. Dianne Feinstein, D-Calif., told Judge Amy Coney Barrett that the "dogma lives loudly within you," suggesting she was just too Catholic to be a federal judge.
"When you read your speeches, the conclusion one draws is that the dogma lives loudly within you," the California senator said. "And that's of concern when you come to big issues that large numbers of people have fought for, for years in this country."
Thomas said these supposed fears are bunk.
"I don't think I know a single judge who has allowed religion to interfere with their jobs," Thomas, himself a Roman Catholic, said at the Pepperdine banquet. "I think if you start the day on your knees, you approach your job differently from when you start thinking that someone anointed you to impose your will on others."
Feinstein is not alone in winking at the know-nothing idea that Catholics are too compromised to serve on the courts. In December 2018, for example, Sens. Mazie Hirono, D-Hawaii, and Kamala Harris, D-Calif., suggested attorney Brian Buescher is unfit to serve as a federal judge on account of his membership in an "extreme" Catholic organization: the Knights of Columbus.
"The Knights of Columbus has taken a number of extreme positions," Hirono claimed of the 137-year-old charitable group.
Harris, for her part, asked of the Catholic attorney: "Were you aware that the Knights of Columbus opposed a woman's right to choose when you joined the organization?" and, "Have you ever, in any way, assisted with or contributed to advocacy against women's reproductive rights?" and, "Were you aware that the Knights of Columbus opposed marriage equality when you joined the organization?"