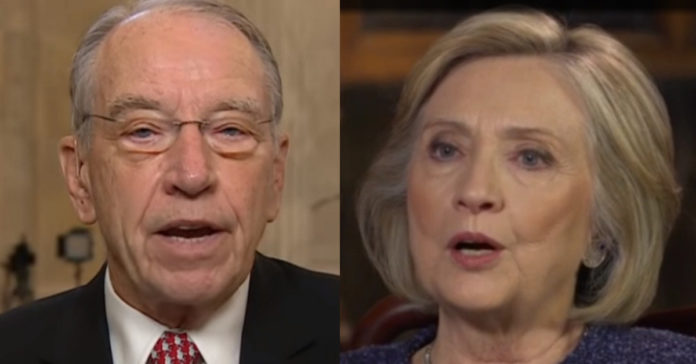 The Republican chairmen of three Senate committees just made their move to hold Hillary Clinton to account for her many misdeeds.
They are demanding Attorney General William Barr hand over "highly classified information" that the FBI buried in the Hillary Clinton email probe.
They want answers and they want them now – look if the FBI did not pursue certain avenues we need to reopen the investigation and find out the truth.
From The Washington Examiner: Senior Senate Republicans have told the Department of Justice to stop making excuses. They are pushing again for details about the FBI's investigation into Hillary Clinton's private email server.
Three Senate committee chairmen wrote to Attorney General William Barr on Tuesday, saying Justice cannot use special counsel Robert Mueller's investigation any longer as an excuse to avoid briefing Congress.
"Now that the Special Counsel's investigation has concluded, we are unaware of any legitimate basis upon which the Department can refuse to answer the Judiciary Committee's inquiries," Judiciary Committee Chairman Lindsey Graham, R-S.C., Finance Committee Chairman Chuck Grassley, R-Iowa, and Homeland Security and Governmental Affairs Committee Chairman Ron Johnson, R-Wis., wrote in their letter.
The Republicans previously requested information on a classified appendix to the Justice Department inspector general's report titled, "A Review of Various Actions by the Federal Bureau of Investigation and Department of Justice in Advance of the 2016 Election," that was released in June 2018.
"The classified appendix raises significant issues associated with the FBI's failure to review certain highly classified information in support of its Midyear investigation," they wrote, referring to the code name for the email investigation.
"In particular, the Inspector General noted that it learned that the FBI acquired classified material that 'may have included information potentially relevant to the Midyear investigation.'
The FBI even drafted a memorandum in May of 2016 stating that access to the information was 'necessary to complete the investigation.' However, that memorandum was never completed."
The 568-page inspector general report found former FBI Director James Comey was "insubordinate" and "affirmatively concealed" his intentions from Justice Department leadership during the investigation into Clinton's private email server.
The report also slammed former FBI investigator Peter Strzok and FBI lawyer Lisa Page, who were having an affair with each other, for anti-Trump tweets that suggested "a willingness to take official action to impact the presidential candidate's electoral prospects."
You can read Grassley's letter here.