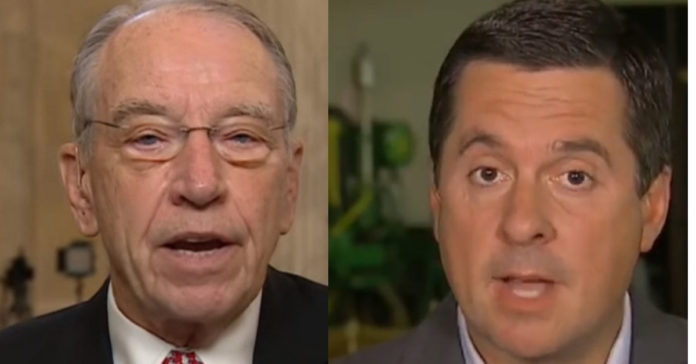 Chuck Grassley came out firing today and put the Democrats squarely in their place. He smacked them for trying to get Trump's taxes, calling it what it is - a political hit job.
Look, we cannot allow our politicians of any party to use the IRS and other agencies to make political hits and if you don't think Adam Schiff will leak every detail you have not been paying attention.
But it is what Chuck said about Devin Nunes move to send criminal referrals to the DOJ surrounding Hillary and Obama and what happened during the election that has people taking notice.
He called Devin a patriot who wants to see justice done. Let's hope. From Newsmax:
As chairman of the Senate Finance Committee, Sen. Chuck Grassley has the authority to request President Donald Trump's income tax returns, but Monday he said he will not seek them.
"I don't want to see them," the Iowa Republican told Fox News' "Fox and Friends." "I am not going to request them…I look at that not from the point of view of Trump, but what is legitimate for Congress to do, looking at people's tax returns."
Last week, House Ways and Means Committee Chairman Richard Neal, D-Mass., asked the Internal Revenue Service for six years of Trump's business and personal tax returns. Under the nation's tax code, committee chairmen from the House Ways and Means Committee, the Senate Finance Committee, or the chairman of the Joint Committee on Taxation can request tax information.
"It is supposed to serve a legislative purpose," Grassley said, and not to use the IRS "for political purposes."
The only reasons tax returns should be sought is to determine if people are avoiding taxes or how they are using tax loopholes, he added.
Grassley also discussed statements from Rep. Devin Nunes, R-Calif., who said over the weekend he plans to send the Department of Justice eight criminal referrals alleging misconduct during the Trump-Russia probe.
"If Hillary Clinton had been elected president none of this stuff would have been known, so I just congratulate him on being a patriotic person, following through, even though he is in the minority making sure justice is done," said Grassley.