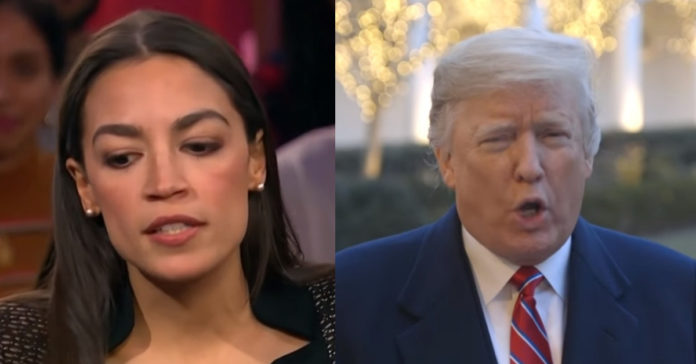 Alexandria Ocasio-Cortez just issued an arrogant challenge to President Trump after Trump mocked her this weekend.
Trump was appearing at a Republican function and as is often the case, his speech veered to and fro, entertaining all.
He got on the subject of AOC and actually gave her a compliment saying she was running her party while mocking Schumer and the gang. But she did not like it.
AOC has thin skin and so tried to fire back but fell a little flat save for the arrogance. Don't punch above your weight, AOC. From Newsweek:
Responding to fresh criticism from President Donald Trump Tuesday evening that her Green New Deal climate change proposal was "done by a young bartender," Democrat Alexandria Ocasio-Cortez told Newsweek Wednesday that the "last guy who underestimated me lost."
"That's all I gotta say about that," she added.
Ocasio-Cortez has faced continued criticism from Republicans and the president for her ambitious climate change proposal, which seeks to achieve net-zero greenhouse gas emissions and for the U.S. to operate on 100 percent renewable energy by mid-century—a feat critics say is unrealistic, given the time frame, in addition to overly expensive. In draft documents that were later walked by the congresswomans's office, the plan called for net-zero greenhouse gas emissions by 2030.
"A young bartender, wonderful young woman, the Green New Deal. The first time I heard it, I said, 'That's the craziest thing,'" Trump said Tuesday evening at a fundraising dinner for the National Republican Congressional Committee.
But he told Republicans not to kill the proposal just yet.
"Don't kill it because we want to be able to run against it," the president said. "If they beat me with the Green New Deal, I deserve to lose."
President Trump destroys 29 yr old bartender She Guevara! 😂

I love this man, he has zero chill !

— Oaktown ☢ Unfiltered (@hrtablaze) April 3, 2019
In a Senate vote last week, which Democrats classified as political showboating by Republicans, while the GOP said it gave Democrats the opportunity to express their support on the record, the Green New Deal failed to advance. In protest to Senate Majority Leader Mitch McConnell putting the nonbinding resolution up for a vote before having hearings or debates, Democrats voted "present," with Republicans voting against it. The final vote was 0-57.
Despite House Democratic leadership showing little willingness to consider the Green New Deal as a whole, Ocasio-Cortez told Newsweek that was not the point of the proposal.
"I think that passing the resolution would be an enormous step. At the same time, I think we've accomplished 90 percent of the resolution's goals, which is a plan," she said. "What we should be debating are the technologies and actual policies that