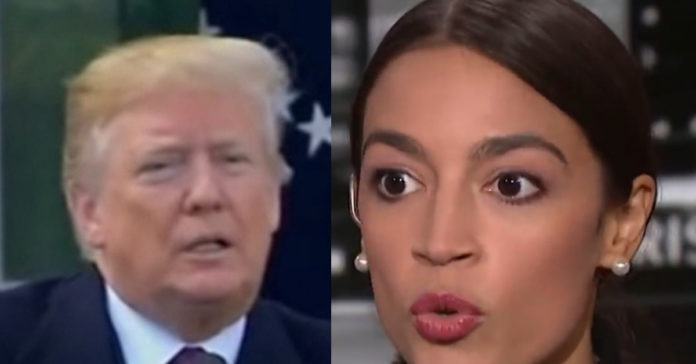 Trump is taking stock of his potential Democratic challengers, and he is not impressed. He believes, correctly, that a winning economy and a growing leftward lean of the Democratic party will carry him to victory.
That and of course some misguided policies the left keeps dragging out to their shame.
From The Hill: President Trump went after the Green New Deal in an interview that aired Friday, calling the proposal championed by Rep. Alexandria Ocasio-Cortez (D-N.Y.) "preposterous" while saying it will be "easy to beat."
"You look at this Green New Deal — it's the most preposterous thing," Trump said during an exclusive interview with Fox Business which aired Friday. "Now I don't want to knock it too much right now because I really hope they keep going forward with it, frankly, because I think it's going to be very easy to beat."
The president has mocked the resolution before, comparing it to a "high school term paper that got a low mark."
The White House in a statement on the proposal last month said that Trump "has vowed that America would never be socialist, and this administration will fight this central planning disaster," and called the plan a "roadmap to destroy the American Economy."
The Green New Deal, backed by a large number of progressive Democrats, calls for upgrading U.S. infrastructure to reduce emissions and shift to renewable energy.
The plan was introduced into Congress last month by Ocasio-Cortez and Sen. Ed Markey (D-Mass.).
It has seen some pushback from centrist Democrats who say climate change must be targeted in a more gradual manner.
The proposal has gained some support among Democrats campaigning for the 2020 presidential nomination but Republicans have attacked the plan.
From Fox Business:
New York Congresswoman Alexandria Ocasio-Cortez on Thursday spoke out on her resolution during a "Late Night" Opens a New Window.  appearance.
"They are trying to say that the Green New Deal is about what we have to give up, what we have to cut back on," she told "Late Night" host Seth Meyers, "when in fact it's a resolution to be more expansive. It is to be able to generate more and to make sure we are investing in working class … Americans."
In Trump's opinion, Democrats are becoming "a far-left party."
"They are radicalized," he said.