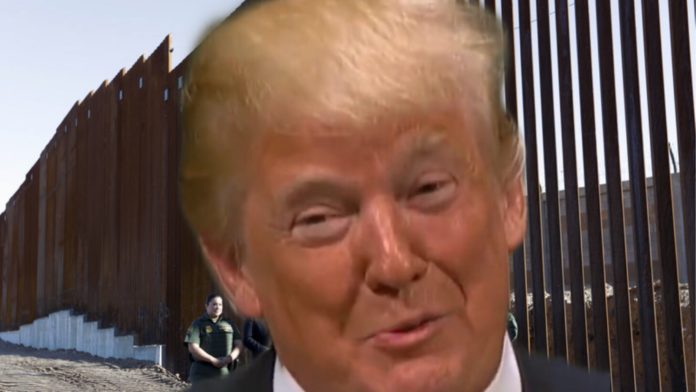 The Pentagon just made its move and authorized an additional 1$ billion more than Congress appropriated to build the wall.
The Democrats are of course furious, make no mistake this is another huge win for Trump in what is shaping up to be his best week as President.
From NPR: The Pentagon has officially informed Congress that it's shifting up to $1 billion in appropriated funding to build a 57-mile fence and other projects at the southern U.S. border. The notice comes after President Trump took the rare step of declaring a national emergency to get more border security funding than Congress would allow.
Trump vetoed Congress's attempt to reverse his emergency declaration earlier this month, allowing his administration to move ahead with controversial plans to fulfill his campaign promise to build a wall along the border with Mexico and clamp down on illegal immigration. The House is set to vote on a possible override of that veto Tuesday.
Acting Defense Secretary Patrick M. Shanahan told the U.S Army Corps of Engineers to begin using the money to support operations by the Department of Homeland Security (DHS) and Customs and Border Patrol, the Department of Defense said.
The money will nearly double the $1.3 billion Congress authorized for border wall funding. Trump had requested $5.7 billion. A Pentagon statement about the move did not specify which part of its budget would yield the $1 billion for the project.
In a news release counter-intuitively titled, "DOD Authorizes Support to Counter Drug Border Security," the agency announced:
"These funds will be used to support DHS's request to build 57 miles of 18-foot-high pedestrian fencing, constructing and improving roads, and installing lighting within the Yuma and El Paso Sectors of the border in support of the February 15 national emergency declaration on the southern border of the United States."
The Pentagon news release then cites 10 U.S.C. § 284(b)(7) — the federal statute that gives it authority to build fences and take other measures to support federal law enforcement agencies that are working to stop drug trafficking.
Shanahan is expected to discuss the border construction project on Capitol Hill Tuesday, as he details how the Department of Defense is spending more than $717 billion in its budget for the current fiscal year.
The Trump administration has pursued plans to build more fencing or walls in the face of critics who said he was setting a dangerous precedent by invoking presidential power to override Congress's funding authority — and that the crisis at the border has more to do with social and civil rights issues than with drugs.
 After Trump vetoed the attempt to overrule his emergency declaration, he tweeted, "This will help stop Crime, Human Trafficking, and Drugs entering our Country."
Christmas came early this week. https://t.co/ypqkZgRkeR

— Donald Trump Jr. (@DonaldJTrumpJr) March 26, 2019