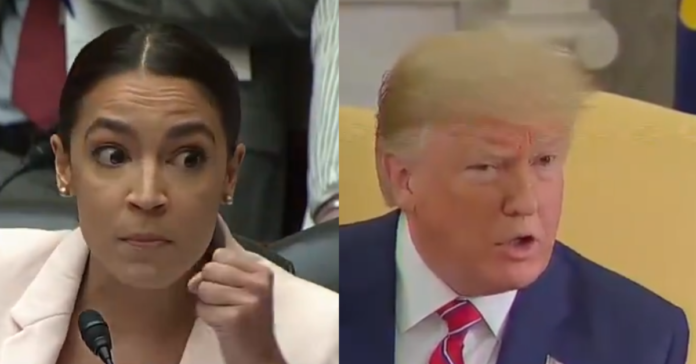 President Trump ripped into the hysterical Democrats over their stubborn census stance today as they were melting down in Congress. The Supreme Court will make a decision soon on the case and they should silence AOC and others.
A citizenship question has been on the census and it has been off the census, so the court will surely side with Trump.
That is not stopping the left from painting their political enemies with a wide brush, no matter the facts on the ground. Trump, for one, was not having it.
From Fox News: Rep. Alexandria Ocasio-Cortez, D-N.Y. on Wednesday defended the Democrats' decision to subpoena documents related to President Trump's proposed census question, blasting the administration's lack of cooperation over a question that she said had a history of "racism."
"What do we get? Stonewalling, obstruction, we're getting a lack of answers!" she said during a  hearing of the House Oversight Committee. Ocasio-Cortez  demanded answers as to why people like former White House advisers Steve Bannon and Kris Kobach had "their fingerprints and political intent all over the United States Census."
"I want to know about corruption, I want to know about the racism," she said, her remarks then appearing in a tweet by MSNBC producer Kyle Griffin that Ocasio-Cortez then retweeted.
She also accused Kobach of voter suppression.
"I want to know why this question was magically added," Ocasio-Cortez said on Wednesday, "after we have seen that a political operative knew and detailed an intent to intimidate racial and immigrant communities for a partisan purpose."
She also criticized the administration for appearing to cut short the amount of time needed to vet a Census question — a process she said usually took five years.
"This is not about whether I want to know who is a citizen in the United States or not," she said. "What I want to know is why this question was added, why two years have been shaved off of that five year process."
Enter President Trump. From Yahoo:
While claiming he has not been "overly involved in the census controversy," President Trump called the question of whether to allow a question about citizenship on the 2020 census forms "totally ridiculous."
"When you have a census and you're not allowed to talk about whether somebody's a citizen or not, that doesn't sound so good to me," Trump responded to a question from a reporter after meeting with Polish President Andrzej Duda. The Supreme Court is expected to rule soon on a challenge to adding the question.
"Can you imagine you send out a census and you're not allowed to say whether or not a person's an American citizen?" Trump asked Duda during the news conference. "In Poland, they'd say they're either Polish or they're not."
"I don't want to get you in this battle, but it's ridiculous," he continued. "I think it's totally ridiculous that we would have a census without asking, but the Supreme Court is going to be ruling on it soon."
Trump added: "I think when the census goes out you should find out whether or not — and you have the right to ask — whether somebody is a citizen of the United States."
.@AOC fired up on the census citizenship question: "I want to know why we have skipped every normal, mandated procedure in testing how this question gets added in the census … I want to know about corruption, I want to know about the racism." pic.twitter.com/LjTmzWLyI1

— Kyle Griffin (@kylegriffin1) June 12, 2019
Trump thinks it's "ridiculous" to have a census without a citizenship question pic.twitter.com/aYfFxEpMpB

— TPM Livewire (@TPMLiveWire) June 12, 2019