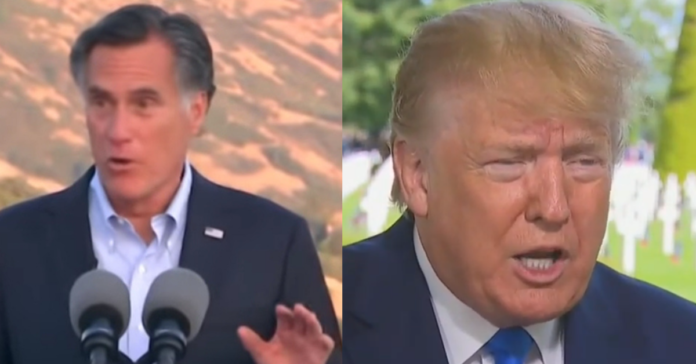 "Punishing Mexico in some way is, in my opinion, a very bad idea. It's also expensive for Americans," Romney said before Trump made his historic deal.
In other words, Mitt was wrong. Look, about the only thing Mitt has been good at is greasing the wheels to get public pension money to invest, then taking that cash and buying good American companies, then shipping those high paying jobs overseas so he could make a fortune.
He did this time and again at Bain capitol and guys like Mitt are the exact reason we lost our middle class. They deserve less power not more because quite simply their ideas are not good for America.
From The Federalist Papers: Utah Gov. Mitt Romney, the 2012 Republican candidate for president, has, again, stabbed President Donald Trump in the back.
The governor spoke to reporters this weekend and said he could not guarantee that he would endorse the president in 2020.
"I don't think endorsements are worth a thimble of spit," he said to reporters, The Associated Press reported at the E2 Summit.
"I think the attitude here has got to be the same as across the country, which is the president will surely be the Republican nominee, and an incumbent in a growing economy is more likely to win than to lose. But it's not a sure thing," he said.
"I don't know what I'll do with regards to 2020, but I wouldn't be surprised if I stay out of the endorsements," he said. "Last time I voted for Ann and I still think she's doing a fine job."
"Punishing Mexico in some way is, in my opinion, a very bad idea. It's also expensive for Americans," he said, disagreeing with the president's Mexico strategy.
But he did say that he agreed with the president on the hard line he is taking with China and the tariffs against that nation.
"President Trump was right to push back hard on China, and I support that effort," he said to the reporters gathered at the event.
"I don't think there's much recognition in the United States about the long-term issues with China," Romney said during his speech.
"We haven't laid out a real comprehensive strategy to say, 'How do we up our game dramatically?'" he said to the crowd.
Mitt Romney says he may not endorse Trump in 2020 https://t.co/cheHtsShoO pic.twitter.com/4bY8AOqS1g

— The Hill (@thehill) June 8, 2019