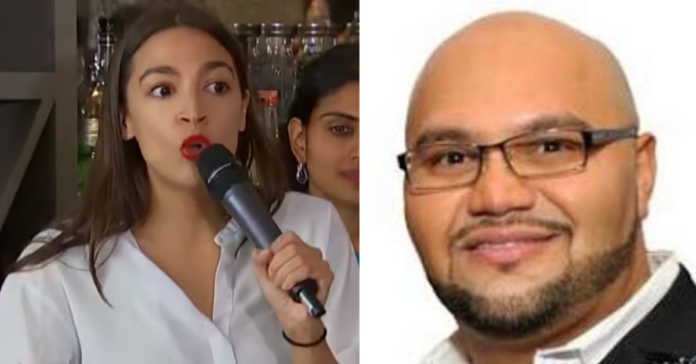 Alexandria Ocasio-Cortez (D-NY) has a new GOP challenger and a new nickname. Rich Valdes, who currently works for Mark Levin and also worked for Chris Christie, is a serious challenger in it for the long haul.
She needs one as she swept to victory without much vetting and now that her district has seen her, her poll numbers have dropped. The district remains solidly blue, but in today's realignment of political boundaries, anything is possible.
From The Daily Wire: Ocasio-Cortez (D-NY) in 2020 started off hitting hard, asserting, "AOC — All Out Crazy — wants to establish a new Soviet Republic."
Rich Valdes, who currently works as a producer for The Mark Levin Show and formerly was an aide to New Jersey Governor Chris Christie, pulled no punches as he spoke at Queens Village Republican Club, stating, "AOC – All Out Crazy – wants to establish a new Soviet Republic. I believe in capitalism over socialism. Her misguided policies don't represent the district. She's great at fundraising but not at constituent services. Ask around, most constituents don't think climate change is a number one issue."
As the New York Post reported, Valdes lives in New Jersey, but plans to move to the district Ocasio-Cortez represents. He joked that he was a "carpetbagger," saying, "People see me and they say 'Wow, we see you more than we see her! That's interesting for a carpetbagger.'" Then he added, " I know I speak better Spanish than her."
According to a website for Valdes' exploratory committee, Valdes worked in the New Jersey Office of Family & Community Partnerships in 2011; in 2017 Christie appointed Valdes to serve as an advisor to the State's Center for Hispanic Policy Research & Development. Prior to that he worked with Somerset Christian College president Dr. David E. Schroeder, who stated:
Although Rich Valdes has been Admissions Director for Somerset Christian College for less than a year, he has demonstrated the qualities and work performance that I expect, which is a high level of excellence.
Most remarkably, Rich has turned a stagnant culture of low energy and achievement into a highly motivated and successful team.
In 2010, Valdes was appointed by Newark Mayor Corey Booker, Police Director Jerry McCarthy, and Clergy Affairs Commander Sergeant Lesley L. Jones, Jr. to be a Deputy Chief, Police Chaplain for the City of Newark, working with families of violent crime victims.
Valdes was born in Brooklyn and is the father of two daughters.
Valdes will face a gigantic uphill struggle. The district Ocasio-Cortez represents is hugely Democratic. The district includes the eastern part of the Bronx and part of Queens; about half of the population is of Latino heritage.
As an indication of how Democratic the district is, it should be noted that the district gave 76% of its vote to Barack Obama in 2008, 81% to Obama in 2012, and 77% of its vote to Hillary Clinton in 2016.