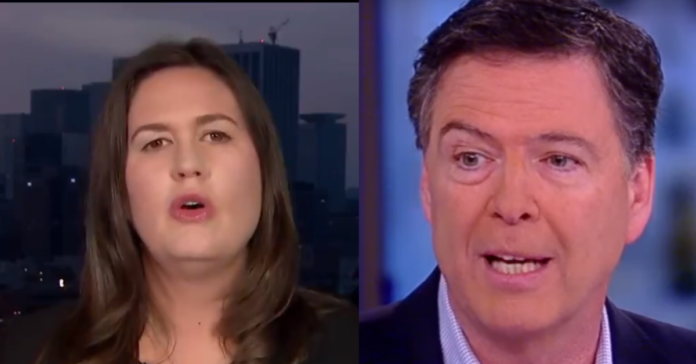 Sarah Huckabee Sanders just raised the stakes in an interview with NBC's Chuck Todd. James Comey specifically should be very worried by Sarah's comments.
Sarah revealed that arresting James Comey and others is on the table and Bill Barr would make the final decision.
Wow…that is the first time we have heard an official say they are seriously considering arrests.
And then it got worse for Comey. Sarah said the administration already knows about high-level corruption over at the FBI. From The Hill:
White House press secretary Sarah Huckabee Sanders said Sunday the Trump administration "already" knows that there was a high level of corruption at the FBI ahead of Attorney General William Barr's investigation into the origins of the Russia investigation.
"We already know that there was an outrageous amount of corruption that took place at the F.B.I. They leaked information. They lied. They were specifically working trying to take down the president, trying to hurt the president," Sanders said on NBC's "Meet The Press."
"We'll leave the final call up to the attorney general and he'll get to the bottom of it. But we think Americans deserve the truth. The president's asked for that. And we should expect nothing less."
Host Chuck Todd pushed back, noting that it "sounds like the president has already determined the outcome."
"It doesn't sound like you want him to do his job," Todd added, referring to Barr.
"Chuck, that's the reason that he's granted the attorney general the authority to declassify that information, to look at all the documents necessary is so that we can get to the very bottom of what happened," Sanders responded.
"Once again, we already know about some wrongdoing. The president's not wrong in that. But he wants to know everything that happened and how far and how wide it went."
WATCH: Does Trump expect Comey to be arrested? #MTP #IfitsSunday@PressSec: "The people that were responsible and that were part of this unprecedented obstruction and corruption at the F.B.I., those people should certainly be held responsible." pic.twitter.com/Cgt1H77wag

— Meet the Press (@MeetThePress) May 26, 2019