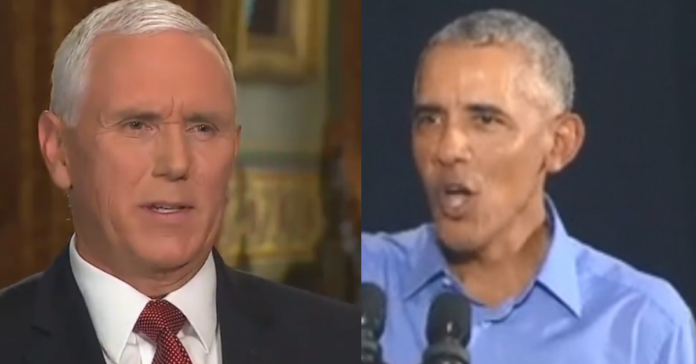 Mike Pence is not happy. Look, politics is a dirty business, downright filthy if you want to be honest.
You really have to want it to win in our system, nothing comes easy. And while elections are dirty and the politicians often dirtier, we did have some unwritten rules that helped keep the peace.
Specifically, you don't abuse the power of the state against your political enemies. Pence clearly feels betrayed by the spying that happened on Obama's watch and told Fox News he was personally offended by it.
And moreover, he plans to do something about it. He just promised Barack Obama and others who made the decision to greenlight the spying that he would investigate.
Look, Pence is correct, America deserves to know how this happened so we can make sure it never happens again. And if Obama and team did not go by the book…
From The Washington Examiner: Vice President Mike Pence said Friday he takes it personally that political opponents of President Trump might have spied on the Trump campaign and his presidential transition team.
"At a time when we were beginning the process of organizing our government, nine days after the election, these two disgraced FBI agents were corresponding about sending a counterintelligence guy … to my intelligence briefing," Pence complained during an interview with Fox News. "I have to tell you, it is very offensive to me."
The two FBI officials Pence is referring to are former Director James Comey and acting Director Andrew McCabe.
Both men have been vocal critics of Trump since leaving the department and have been accused by the administration of kicking off what they say was an illegitimate investigation into the campaign's contacts with foreign governments.
Reps. Mark Meadows, R-N.C., and Jim Jordan, R-Ohio, have led this charge, railing against a so-called deep state looking to undermine Trump.
The investigators, they say, need to be investigated.
The Republican argument was given extra fuel last week when Attorney General William Barr, who oversaw issuing Mueller's report in redacted form, said he believed there is evidence to prove illegal spying on the Trump campaign was carried out by former Obama administration intelligence officials.
Pence and others in the administration have been emboldened by that assertion from the nation's highest-ranking law enforcement official.
"The American people aren't going to tolerate this," Pence said. "They have a right to know how this all started. If the law was violated, those people need to be held accountable."
.@VP says it offends him that people spied on @realDonaldTrump's 2016 campaign and transition team.

"The American people aren't going to tolerate this … they have a right to know how this all started. If the law was violated, those people need to be held accountable." pic.twitter.com/wnCBMiYJEk

— Washington Examiner (@dcexaminer) May 3, 2019