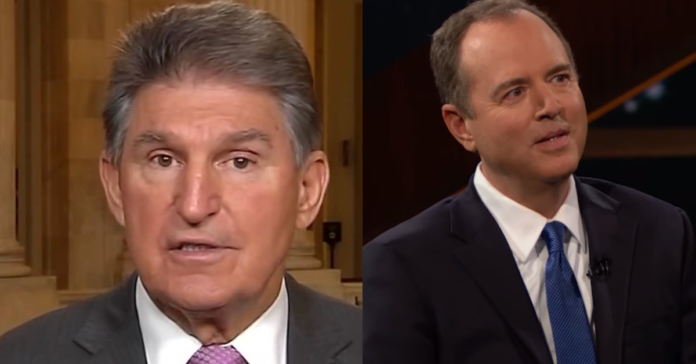 Joe Manchin is the voice of reason in the Democratic party and he just put Adam Schiff and the House Democrats on notice over the impeachment hysteria.
And shockingly he wasn't alone. Even Dianne Feinstein is warning the left that impeachment is a fool's errand.
Look, we elected Trump to shake things up. He has. You may hate the results or love them, but most will admit the next two years will really define his presidency.
Mainly with China and trade and immigration. We elected him to fix these systems and the quickest way to reelect Trump is to stop him halfway from his goal.
Look, if he doesn't deliver America gets to vote again. But to deny the voters probably the one chance we will ever have to fix these broken systems is both arrogant and politically stupid.
From The Hill: Sen. Joe Manchin (D-W.Va.) argues that moving ahead with impeachment proceedings would be a waste of time given the Senate Republican majority.
Manchin said House Democrats pushing for impeachment proceedings "ought to come over and talk to their Republican colleagues" in the Senate "because they're going to have to have some votes there."
It would require a two-thirds majority vote, or 67 votes, to convict the president in the Senate.
"There's no appetite whatsoever," Manchin said of impeachment.
He also said it would divide the country unnecessarily.
"Impeachment and all that goes with impeachment wouldn't be done any quicker than the election would be done so it's crazy. Makes no sense at all," he said.
Sen. Jon Tester (D-Mont.) said impeachment of talk doesn't come up in caucus meetings.
"I've never heard it," he said. "It's getting the cart ahead of the horse. You got to get the information, you got to do a study, you got to release a law report, you got to get the underlying documents.
"I just think it's a little premature," he added.
Senate Democrats want the House to cool it on impeachment.
They see an impeachment drive as hurting more than helping their efforts to win back the Senate majority, and generally back Speaker Nancy Pelosi's (D-Calif.) efforts to keep a lid on the issue.
Even Senate Democrats running for president who back impeachment aren't pressing Senate Democratic Leader Charles Schumer (N.Y.) to take a more aggressive approach to the issue.
Democratic senators say the subject of impeachment rarely even comes up in caucus-wide meetings, and that it distracts from issues like health care they see as more important to voters.
"I don't think we should go there now," said Sen. Dianne Feinstein (Calif.), the ranking Democrat on the Senate Judiciary Committee. "I was here for the Clinton impeachment and after it was over I wished it never had happened. I think we ought to be very, very cautious with that kind of thing.
"Everybody does what they do based on their own desires but I don't find it helpful," she said of fellow Democrats who are pushing for the beginning of an impeachment inquiry.
Schumer, who is not shy about criticizing Trump, has stuck with Pelosi's line that more investigation needs to be done.
"My view is that we ought to get all the facts out, the way the House is doing now with Leader Pelosi," he said. "If you have a little patience all the information will come out and then decisions will be made."
Democrats already face an uphill fight in winning back the Senate.
Republicans hold a 53-47 majority, and Democrats must defend Sen. Doug Jones (D) in Republican-leaning Alabama. Their best opportunities for picking up seats may be in Maine and Colorado, where Trump lost to Hillary Clinton in 2016, and in Arizona.