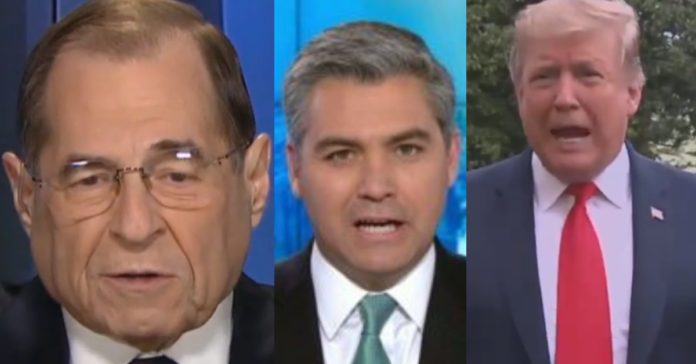 Another day, another conflict of interest surrounding Jerry Nadler's unprecedented Trump harassment gets exposed.
Look, the Democrats are living in the past with another investigation of Trump. It was always a stretch to think that anyone could collude with a foreign government and get away with it - too many people would know and too many people would leak.
It was always just a conspiracy cooked up by the Dems and pushed by the media to damage Trump. From The Federalist Papers:
New York Rep. Jerry Nadler, the man at the helm of the cabal that is attacking President Donald Trump, has a major issue on his hands.
It has been discovered that his son, Michael Nadler, works for Gibson Dunn & Crutcher LLP, a New York based law firm.
What is significant about this job is that that office has repeatedly sued President Trump, including on behalf of CNN reporter Jim Acosta, Big League Politics reported.
"Congressman Jerry Nadler has a big conflict," our source tells Big League Politics in Washington, D.C.
"His son (Michael Nadler) got a job with Gibson Dunn & Crutcher LLP in 2018. That's convenient because Jerry Nadler and the Democrats just won control of the House in 2018.
Gibson Dunn & Crutcher hire Jerry's son and Gibson Dunn & Crutcher are the main Nemesis against Trump and the Trump Administration on numerous lawsuits.
Now the Nadler family will gain access to thousands of Trump documents via Jerry's subpoenas!," our insider stated.
Gibson Dunn represented CNN's Jim Acosta in his lawsuit against the Trump White House after President Trump revoked Jim Acosta's press credentials for creating a disturbance in a press briefing and making physical contact with a female White House intern.
In December Gibson Dunn announced that it was representing the Center for Reproductive Rights in its lawsuit against the Trump State Department concerning abortion language in Trump administration human rights reports.
Gibson Dunn's global co-chairman Ted Boutros sued President Trump in a bid to protect the DACA Dreamer program.
Such an arrangement — Jerry Nadler investigating Trump with his son's firm trying to get access to documents in other cases — violates ethics rules for federal investigators.