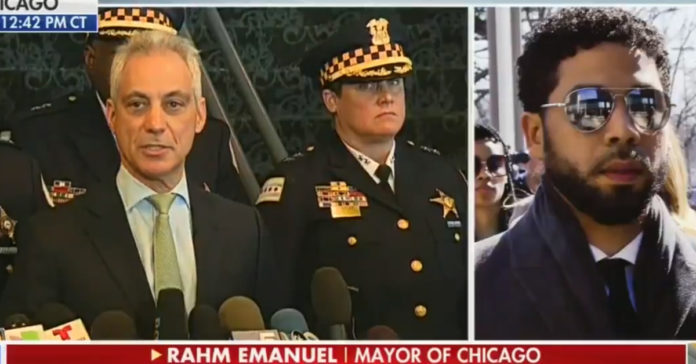 Rahm Emanuel just broke his silence on the shock decision to let Jussie Smollet off the hook and he destroyed the hapless Smollet.
Rahm called it a total whitewash and a tragedy of justice. Wow. In a gripping news conference, Emanuel went after Smollet in no uncertain terms saying basically the clown is out there saying he is innocent and he is not.
He said Smollet is hiding behind a plea deal that was sealed by the judge but the facts remain - he is guilty.
Rahm said, "This is a person who has been let off scot-free. You have a person using hate crime laws to advance your career. Is there no decency in this man?"
"This is a whitewash of justice," Rahm said of Jussie Smollett's charges being dropped. "A grand jury could not have been clearer. Where is the accountability in the system?"
Chicago Police Superintendent Eddie T. Johnson said: "If you want to say you're innocent, then you take your day in court. If someone accused me I would NEVER hide behind a brokered deal in secrecy."
Before he added that justice was not served. Wow, thankfully the FBI is still investigating this hoaxer.
"I would like to remind everybody that a grand jury indicted this individual based on only a piece of the evidence that the police had collected. So a grand jury actually brought the charges," Rahm added.
 "A whitewash of justice, "It is wrong. Full stop," added Rahm.
"This is a whitewash of justice," @ChicagosMayor says of Jussie Smollett's charges being dropped. "A grand jury could not have been clearer. Where is the accountability in the system?" pic.twitter.com/jBsrh5skTr

— Washington Examiner (@dcexaminer) March 26, 2019
Chicago Police Superintendent Eddie T. Johnson: "If you want to say you're innocent, then you take your day in court. If someone accused me I would NEVER hide behind a brokered deal in secrecy." pic.twitter.com/tOcppb3qRL

— Washington Examiner (@dcexaminer) March 26, 2019