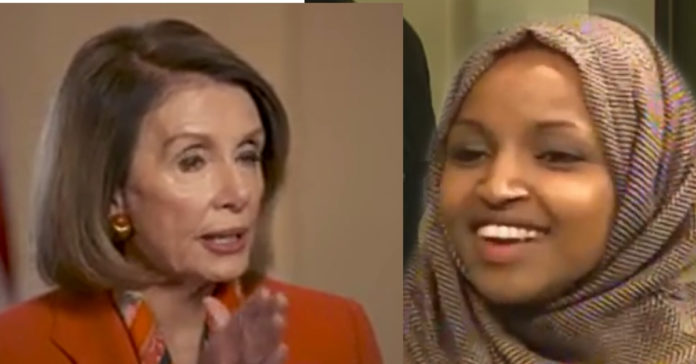 The Democrats are tearing themselves apart and it will get a lot worse before it gets any better for Nancy Pelosi.
Pelosi went to AIPAC to try to calm supporters of Israel about the recent comments from certain members of the Dems caucus and Ilhan was not happy. From The Hill:
Rep. Ilhan Omar (D-Minn.) on Tuesday pushed back against Speaker Nancy Pelosi (D-Calif.) for denouncing the global boycott and sanctions movement against Israel during an appearance before the annual American Israel Public Affairs Committee (AIPAC) conference.
During a speech before the conference Tuesday morning, Pelosi said "we must also be vigilant against bigoted or dangerous ideologies masquerading as policy, and that includes BDS," referring to the Boycott, Divestment and Sanctions movement.
Omar, as well as fellow freshman Rep. Rashida Tlaib (D-Mich.), both support the BDS movement, which seeks to pressure Israel over its policy toward Palestinians. The rookie lawmakers are the first two Muslim women to serve in Congress.
"A condemnation for people that want to exercise their First Amendment rights is beneath any leader, and I hope that we find a better use of language when we are trying to speak as members of Congress that are sworn to protect the Constitution," Omar told reporters in a Capitol hallway after a House Democratic Caucus meeting on Tuesday.
Omar also swiped at Israeli Prime Minister Benjamin Netanyahu on Tuesday, who rebuked her tweet saying that "it's all about the Benjamins baby" in reference to why U.S. lawmakers defend Israel.
"From this Benjamin: It's not about the Benjamins!," Netanyahu said.
"This from a man facing indictments for bribery and other crimes in three separate public corruption affairs," Omar tweeted Tuesday. "Next!"
Pelosi referenced the latest Omar controversy in her address to AIPAC on Tuesday, saying that "the full House came together to condemn the anti-Semitic myth of dual loyalty and all forms of bigotry."
"In our democratic societies, we should welcome legitimate debate at how best to honor our values and to advance our priorities without questioning loyalty or patriotism," Pelosi said.
"I simply declare that to be anti-Semitic is to be anti-American," Pelosi added. "It has no place in our country."