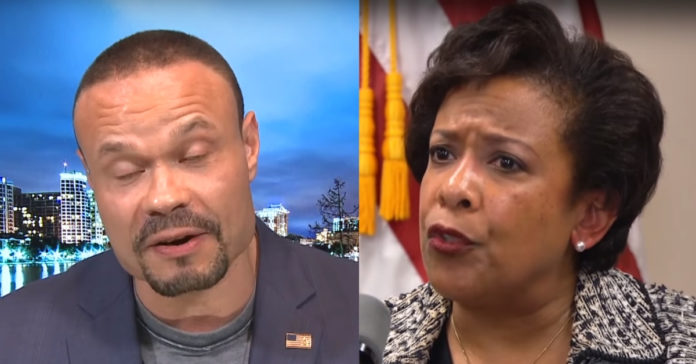 Dan Bongino came out firing after a GOP Rep leaked some explosive testimony from Lisa Page.
Bongino details a massive skeleton hiding in Loretta Lynch's closet while exposing it with ruthless efficiency. Look, what we are seeing with the college cheating scandal and this Hillary mess is that a level playing field is a fantasy.
For all the handwringing about Trump from the elites, who bash him for lacking ethics among other crimes against their sensibilities, when no one is looking they loot like Manafort and cheat on the college admission process with reckless abandon.
Hypocrites all. Every single one of them. If we are not careful we will turn America from the land of the free to just another two-tiered society common in third world nations where there are a small group of wealthy and the rest of us - with zero upward mobility.
This is not some fantasy - they hollowed the middle class for extra profits promising us that we would be better off because no one wants those jobs anyway.
They cheer the world is flat garbage as they ship professional jobs overseas forgetting that the American worker cannot realistically compete with a guy in India willing to work for next to nothing. All the while they line their pockets and depress our wages and in this way they subvert not only democracy but capitalism itself (which needs a healthy competitive environment to thrive and that actually suffers under monopolies).
Bongino wrote: The Obama Justice Department told the FBI not to consider charge Hillary Clinton with gross negligence, according to Rep. John Ratcliffe (R-TX).
Tweeting an excerpt of the transcripts of former FBI lawyer Lisa Page's testimony (which were made public yesterday), Ratcliffe wrote, "Lisa Page confirmed to me under oath that the FBI was ordered by the Obama DOJ not to consider charging Hillary Clinton for gross negligence in the handling of classified information."
In the excerpt, Ratcliffe said to Page, "But when you say advice you got from the Department, you're making it sound like it was the Department that told you: You're not going to charge gross negligence because we're the prosecutors and we're telling you we're not going to —"
"That is correct," Page interrupted, as Ratcliffe finished his sentence, " — bring a case based on that."
Fox News reports, "Page also testified that the DOJ and FBI had "multiple conversations … about charging gross negligence," and the DOJ decided that the term was "constitutionally vague" and "had either never been done or had only been done once like 99 years ago," and so "they did not feel they could sustain a charge."
Former FBI lawyer Lisa Page testified last year that officials in the bureau, including then-FBI Director James Comey, discussed Espionage Act charges against Hillary Clinton, citing "gross negligence," but the Justice Department shut them down.
Newly released transcripts from Page's private testimony in front of a joint task force of the House Judiciary and Oversight committees in July 2018 sheds new light on the internal discussions about an investigation into Clinton's emails. This goes back to the FBI's "Midyear Exam" investigation, which looked into whether Clinton committed crimes when she sent and received classified information on her unauthorized private email server while serving as secretary of state.
Page told the committee that the FBI "did not blow over gross negligence." Responding to a question from Rep. John Ratcliffe, R-Texas, Page testified the FBI, including Comey, believed Clinton may have committed gross negligence. "We, in fact — and, in fact, the Director — because, on its face, it did seem like, well, maybe there's a potential here for this to be the charge. And we had multiple conversations, multiple conversations with the Justice Department about charging gross negligence," she said.
Page further testified the DOJ put a stop to that: "The Justice Department's assessment was that it was both constitutionally vague, so that they did not actually feel that they could permissibly bring that charge." The specific statute being referenced, 18 U.S. Code § 793, deals in part with "gross negligence" in the handling of national defense information, which Clinton came under scrutiny for possibly violating.
Page said Comey and the FBI spoke with DOJ about a gross negligence charge for Clinton multiple times, but that the DOJ consistently pushed back on it. "We had multiple conversations with the Justice Department about bringing a gross negligence charge. And that's, as I said, the advice that we got from the Department was that they did not think — that it was constitutionally vague and not sustainable," she said.
Ratcliffe asked if the decision not to charge Clinton with gross negligence was a direct order from the DOJ. "When you say advice you got from the Department, you're making it sound like it was the Department that told you: 'You're not going to charge gross negligence because we're the prosecutors and we're telling you we're not going to,'" he said.
Page responded: "That's correct."
You can see the leaked transcript here.